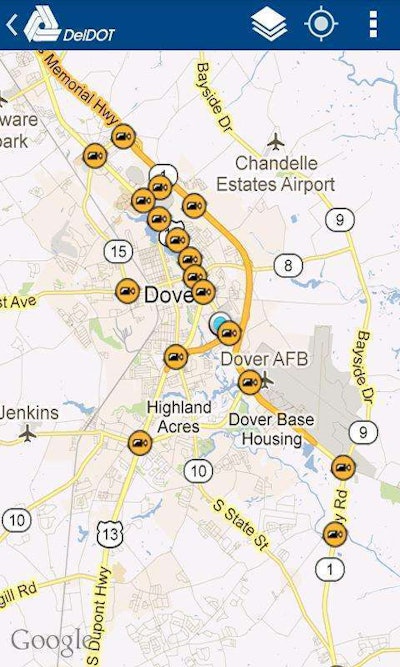 The Delaware Department of Transportation (DelDOT) has added an interactive project map, street light outages reporting and DMV driver license practice test to its mobile app.
"Our free mobile app has been downloaded nearly 60,000 times and is a great resource for anyone traveling around Delaware. We continue to add new features to the app to provide users with important information about our transportation system, and want to encourage everyone to take advantage of it," says Secretary of Transportation Jennifer Cohan. "We also remind users to safely utilize our app, and their phones in general, when they are not operating a vehicle."
The interactive project map provides details on projects throughout the state that are being planned, designed and in progress. Users can also now Report an Issue for street light outages using geolocation to help identify the whereabouts of the outage. An email is sent to the District Area yards that service any streetlights operated by DelDOT, and contact information is shown for any owned by a third party.
"Adding our sample test to the DelDOT mobile app allows our customers to come to the DMV confident and well prepared for their driver license knowledge test," says DMV Director Scott Vien. This is one more example of the many service options customers have to take care of their DMV business.
DelDOT's mobile app is available on both the Apple and Google Play stores.