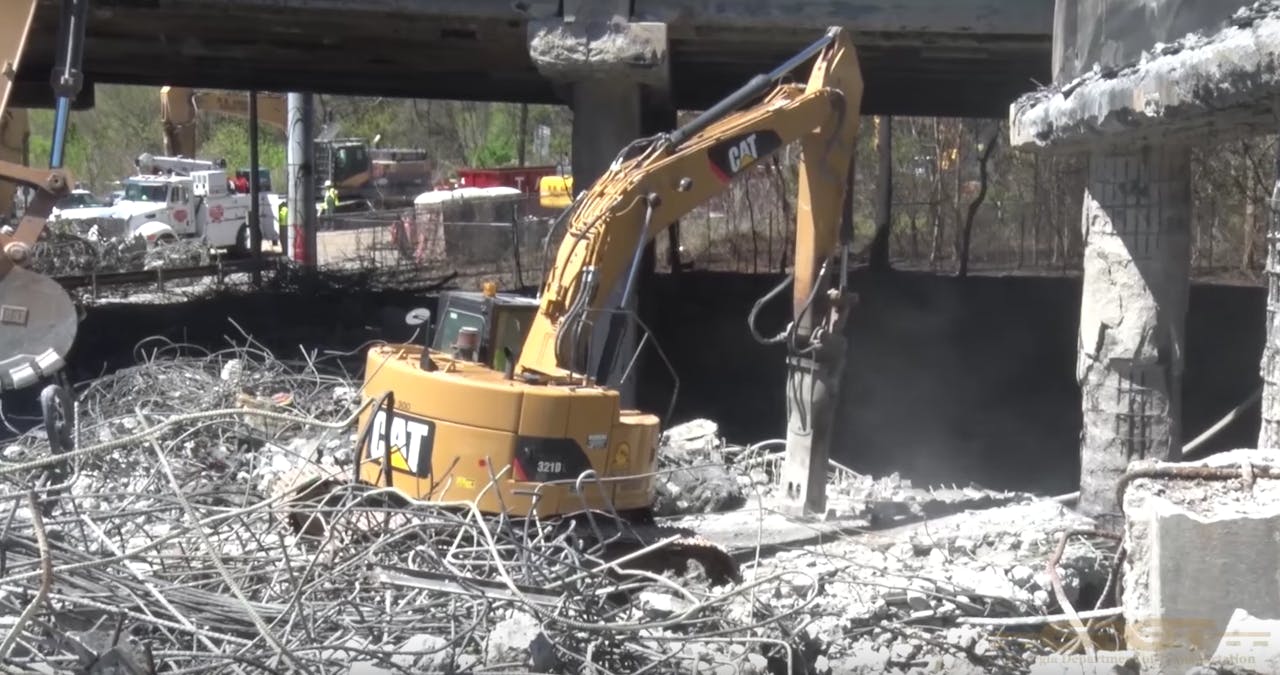 The Georgia Department of Transportation (GDOT) has selected C.W. Matthews of Marietta, Georgia, to reconstruct the portions of northbound and southbound Interstate 85 bridges outside of Atlanta destroyed in a fire March 30.
GDOT Director of Construction Marc Mastronardi expects the work to be completed by June 15, but is reviewing options for incentives to the contractor to complete the work earlier.
"An element of this is incentivizing the completion, and that is for us something we routinely do on major projects that warrant such expedited delivery," he says. "For us that's looking back at what are the impacts to those road users, and so that analysis is currently underway. Our approach to that will be to look at roughly 250,000 road users a day, how they're impacted, the cost and a value associated with that. What we'll then do is look at what we think is an aggressive, but achievable, completion date to do that work inside that mid-June date and reward the contractor for doing so. And in addition to that, we would look for additional daily increases and daily bonuses to complete that work even earlier still."
To speed up the project completion, GDOT Chief Engineer Meg Pirkle says material and design changes were worked into the reconstruction plans.
"The final design incorporates the use of 24-hour accelerated curing concrete throughout the project," she reports. "This is a very expensive product and is not something we typically use in all of our projects, but this will expedite the construction progress. Another effort to expedite the progress is that we will be retrofitting the existing columns. We will be cutting off the columns about 9 feet below the original bridge caps, peeling off all of the old concrete cover material and building new columns around the existing steel. For some of the more damaged columns we will be digging down into the foundations and rebuilding them at that level."
GDOT bridge engineers also reworked the design of the beams to be used, as Pirkle says those in the existing structure were of an older design not currently used in the department's specs and would have taken too long to fabricate.
Mastronardi says the beams will begin arriving in mid-April and be fully delivered to the project by the end of the month.
"You're going to see as the week unfolds and you can see currently today, sometime today, the contractor beginning to form some of that column retrofit work (Pirkle) described," he explains.
Mastronardi also points out that C.W. Matthews previously worked on a similar bridge reconstruction project resulting from a fire on I-285 over S.R. 400 in 2001. "That gives us great assurance and high marks for them in what they've done for use in the past," he adds.
Regarding the fire, GDOT Commissioner Russell McMurry says the materials that caught fire underneath the bridge spanning Piedmont Road were HDPE pipe conduit and fiberglass conduit. These materials had been stored in this location since 2011 and were from a project for which work had stopped in 2008.
"In an effort to save taxpayer dollars, GDOT chose to store the material in hopes that it could be used for another project," he reports. "The material was stored on state property behind a fence with a locked gate and there was a sign placed that it was a state property and no trespassing. The area was breached by individuals who allegedly trespassed on state property with the devastating outcome we are now dealing with. We're told by fire officials and media reports that the blaze was deliberately set and subsequently spread to the rolls of the HDPE conduit. Naturally we will continue to cooperate fully with the investigators on this case and we look forward to the final report."
McMurry says he is asking for the state insurance commission and state fire marshal to assist in conducting a joint review with GDOT of the agency's storage procedures, practices and policies particularly regarding storage of materials in, around and under bridges and other transportation infrastructure.
"We would expect that this review would be statewide and provide recommendations regarding best practices for procedures, policy review and recommendations to ensure adequate storage and handling of all materials," he adds.
McMurry has reached out to the American Association of State Highway Transportation Officials detailing what is known about the fire in order to help communicate to all state DOTs to review materials stored under their bridges. "We want to make sure they make a full assessment," he states. "We tried to make this a learning opportunity for the nation."