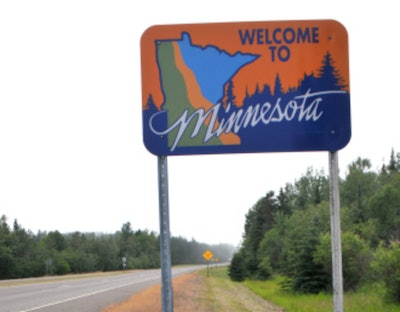 Minn. Gov. Mark Dayton has signed Chapter 14, HF 837 that authorizes $105 million from the FAST Act for transportation projects across the state, providing for at least 28 highway and bridge projects.
Both the state House and Senate unanimously supported the bill.
"I am pleased that the Legislature has authorized this funding, which is ready to put people to work to improve our road and bridge infrastructure across our state," Dayton says.
Dayton has also proposed a transportation plan aimed at repairing or replacing 1,700 miles of roads and 235 bridges. A summary of the plan is available here.
For the Chapter 14, HF837 legislation, Dayton had called on the state general assembly to approve the measure last October, and again in March in order "to allow Minnesota communities to access federal funding for transportation projects in time for the coming construction season."
The projects to be funded by this bill include:
Route
City
County
Project
Description
US 169
Virginia
St. Louis
US 169 NB &SB, IN VIRGINIA, FROM .07 MI W CR‐109 TO JCT 53 (HOOVER RD)
Bridge Work
MN 11
International Falls
Koochiching
MN 11, FROM W JCT MN 71 TO 0.3 MI W JCT CSAH 332
Road Work
MN 175
Hallock
Kittson
MN 175, FROM E END BR 35005 OVER THE RED RIVER TO S. EMERSON AVE IN HALLOCK, & ON US 75, FROM 4TH ST TO 110′ N OF 8TH ST, IN HALLOCK
Road Work
MN 197
Bemidji
Beltrami
MN 197, NB & SB FROM 7TH ST SW TO 3RD ST NW
Road Work
US 2
Bagley, Wilton
Clearwater
US 2, EB & WB FROM BAGLEY TO WILTON
Road Work
MN 6
Remer
Cass, Itasca
MN 6, FROM JCT MN 200 IN REMER TO CASS/ITASCA CO LINE
Road Work
MN 84
Pine River
Cass
MN 84, IN PINE RIVER, FROM CASS CSAH 1 TO JCT MN 200
Road Work
MN 25
Foley
Benton, Morrison
MN 25, FROM JCT MN 23 IN FOLEY TO BENTON/MORRISON CO LINE
Road Work
MN 25
Genola
Benton, Morrison
MN 25, FROM BENTON/MORRISON COUNTY LINE TO 123 ST IN GENOLA
Road Work
US 59
Montevideo
Swift
ON US 59, FROM TH 119 TO TH 12, AND AT BRIDGE #76002
Road Work
MN 29
Benson
Swift
ON TH 29, FROM S OF OAKWOOD AVE. TO CHIPPEWA RIVER, ON TH 9, FROM CHIPPEWA RIVER TO N OF CSAH 104. ON TH 12, FROM 181/2ND ST S TO W OF CSAH 25
Road Work
MN 43
Winona
Winona
WORK PACKAGE #6 ‐ COMPLETE ROADWAY APPROACHES FOR BRIDGES 85851
AND 5900, RECONSTRUCTION BRIDGE 5900 AND COMPLETE BRIDGE 85851
Road Work
MN 15
Fairmont
Martin
MN 15, FROM JOHNSON STREET TO 0.05 MI S OF GOEMANN RD IN FAIRMONT
Road Work
US 14
New Ulm
Brown
US 14, FROM 0.1 MI E OF CSAH 27 TO THE WEST LIMITS OF NEW ULM
Road Work
US 59
Worthington
Nobles
US 59, FROM N JCT TH 60 TO I90 IN WORTHINGTON
Road Work
MN 4
Sleepy Eye
Nicollet, Renville
MN 4, FROM JCT TH 68 TO THE NICOLLET/RENVILLE COUNTY LINE
Road Work
MN 13
New Richland
Waseca
MN 13, TH 30 IN NEW RICHLAND TO 0.9 MI S OF JCT TH 14, REHAB BR#81001 & 81002
Road Work
US 71
Willmar
Kandiyohi
US 71, N OF JCT MN 23 TO N OF JCT MN 9
Road Work
US 71
Willmar
Kandiyohi
US 71, JCT US 71/KANDIYOHI CSAH 40 & ALSO AT US 71/CSAH 29
Road Work
US 71
Kandiyohi
US 71, JCT US 71/MN 9
Road Work
MN 4
Fairfax
Renville
MN 4, MN 68 TO MN 19 (FAIRFAX)
Road Work
US 59
Marshall
Lyon
US 59, US 59 & LYON CSAH 6
Road Work
I 35W
Bloomington
Hennepin
I35W, 86TH STREET BRIDGE OVER I35W IN BLOOMINGTON‐REPLACE OLD BRIDGE #9039 WITH NEW BRIDGE # 27W40
Bridge Work
MN 50
Farmington, Hampton
Dakota
MN50, FROM MN3 IN FARMINGTON TO US52 IN HAMPTON
Road Work
MN 13
Savage, Burnsville, Shakopee
Scott
MN13, FROM JCT OF TH 901B IN SAVAGE TO 0.4 MI E WASHBURN AVE IN BURNSVILLE AND ON TH 901B, FROM 0.1 MI W OF TH 169 IN SHAKOPEE TO JCT WITH MN13
Road Work
US 52
Coates, Hampton
Dakota
US52, FROM JCT WITH CSAH 86 TO CSAH 46 IN DAKOTA COUNTY
Grade and Surface
MN 97
Forest Lake
Washington
MN97, AT 11ST (MSAS 135) IN FOREST LAKE
Grade and Surface