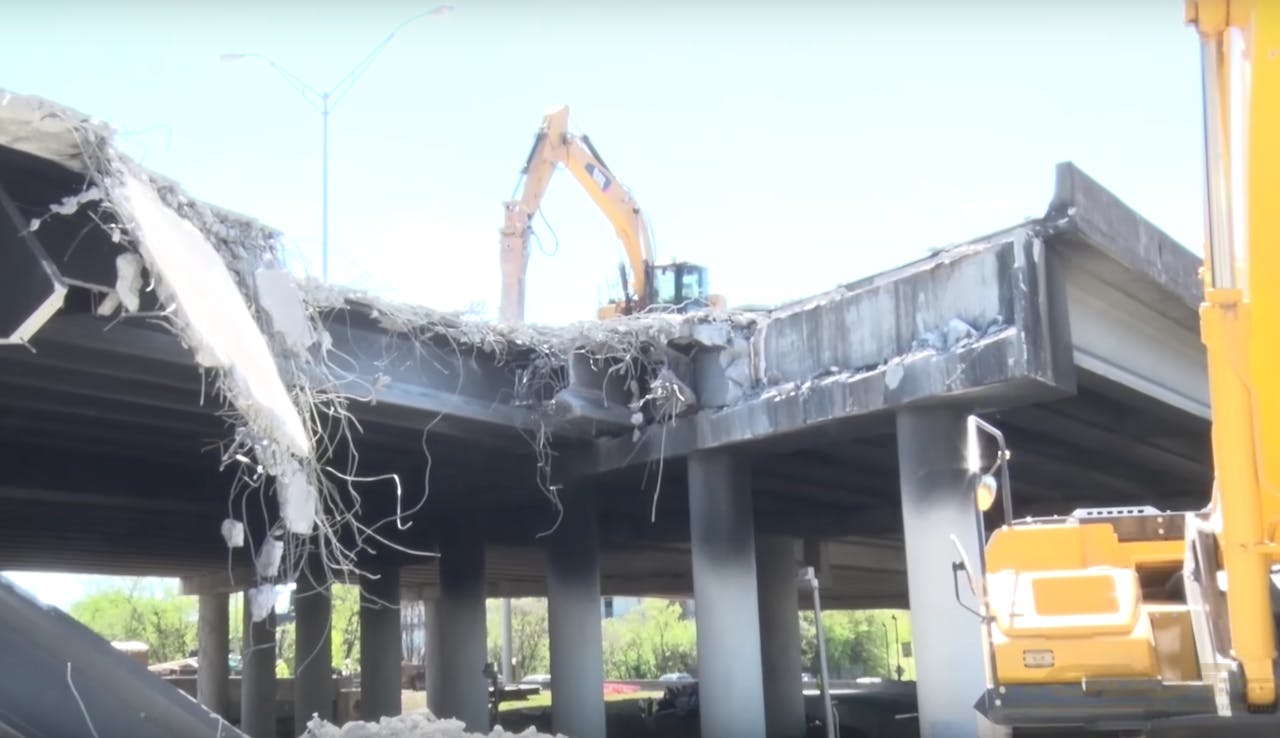 Crews with the Georgia Department of Transportation (GDOT) began demolition this past weekend on the collapsed portion of Interstate 85 following a fire March 30 believed to have been set intentionally.
Officials estimate the repairs, which will include 350 feet of interstate in both northbound and southbound directions, will take months to complete. The Federal Highway Administration released $10 million in emergency relief funds to be used for the reconstruction.
The bridge was originally built in 1953 and updated in 1985. Roughly 400,000 vehicles travel across this section of I-85 each day.
Construction materials, including PVC piping, were being stored underneath the overpass that extended over Piedmont Road in the Midtown section of Atlanta. The space, which is fenced in, has been used for storage for roughly 10 years.
Three people have been arrested in connection to the fire, with one individuals being held on $200,000 bond in Fulton County and charged with arson in the first degree and criminal damage to property in the first degree.
"The area in which the fire originated is part of the state's right of way that was utilized as a storage location for construction materials, equipment and supplies," GDOT Commissioner Russell R. McMurry said in an initial statement. "The site was a secured area containing materials such as PVC piping which is a stable, non-combustible material. We are as eager to learn the cause of this fire as anyone, which is why we will continue to work closely and in full cooperation with fire investigators to determine exactly how the fire was started. "
GDOT says the demolition is difficult because workers need to work around stable roadway and bridge columns to avoid additional needed work.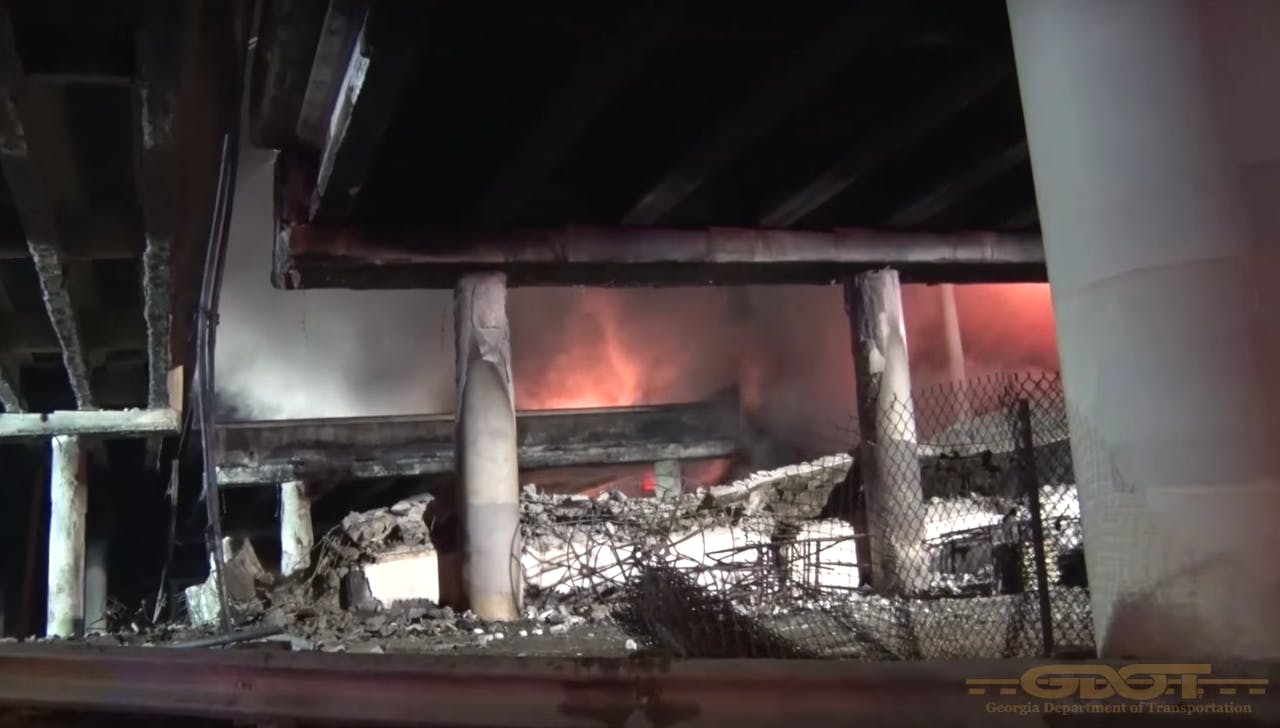 "Once demolition is completed, an accurate scope of needed work and a more exact timeline for expected completion can be estimated," the department reports. "A high-voltage power line and gas line have been identified in the area, requiring workers to take additional precaution during the demolition and subsequent construction phase of the project. (GDOT) bridge designers are currently working on finalizing the beam designs for the new sections of the road, and will begin the construction phase soon after the demolition work is completed."
Over the weekend GDOT worked with local officials in creating alternate routes and lane reconfigurations for the areas commuters. For example, the northbound lanes of I-85 near the Peachtree Road overpass were reconfigured to allow for two travel lanes to continue northbound up to the Buford-Spring Connector for local traffic only. The department also recommends commuters use the MARTA or GRTA transit systems or telecommute if possible.
Other adjustments include:
I-75/I-85 northbound traffic is being diverted to I-75NB. 17th Street is last available northbound exit prior to Brookwood split.
I-75SB ramp to I-85NB ramp is closed.
SR 400SB to I-85SB is closed. Traffic diverted to I-85NB.   Sidney Marcus Blvd is last available exit.
I-85 SB is closed. Traffic diverted to SR 400NB.  Lenox/Cheshire Bridge is last available exit.
Buford Spring connector southbound is open from Piedmont Road.
Buford Spring connector northbound is now open from Spring/West Peachtree and Peachtree Street.
GDOT is providing updates on the bridge replacement work and traffic at https://www.dot.ga.gov/DS/Emergency.
The video below provides a quick overview of the agency's bridge engineer response.