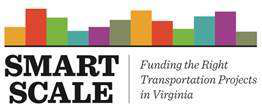 The Virginia Commonwealth Transportation Board (CTB) is seeking public input on projects that have been scored and recommended for funding through the state's SMART SCALE prioritization process, as well as new projects not processed through the program with values greater than $25 million.
After the public meetings are held, which are scheduled through the first week of May, the CTB will consider the public comments as it develops the fiscal year 2018-2023 Six-Year Improvement Program (SYIP). This program provides the specific allocation of funds to highway, road, bridge, rail, bicycle, pedestrian and public transportation projects.
"The CTB will select the final list of scored as well as approved projects to be included in the SYIP," the agency reports. "All federally eligible projects in the six-year improvement program will be included in the federally required Statewide Transportation Improvement Program to document how Virginia will obligate its federal funds."
More details on SMART SCALE and the more than 400 transportation projects proposed are available at smartscale.org.