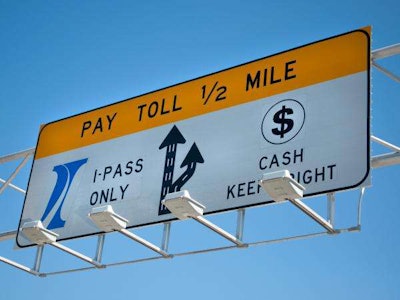 The Hispanic American Construction Industry Association (HACIA) has presented the Illinois Tollway with a Project of the Year Award for the $2.5 billion Jane Addams Memorial Tollway (Interstate 90) Rebuilding and Widening Project.
The award was presented during the association's 38th annual awards banquet in Chicago. This is the second HACIA Project of the Year Award the Tollway has received, the first being presented in 2015 for the initial phase of this same project.
"This project demonstrates how the Illinois Tollway has helped contribute to the growth and development of Hispanic-owned firms in the Chicago area and across Northern Illinois," says HACIA Executive Director Jorge Perez. "We are pleased to recognize this project for the benefits it provides to drivers, businesses and communities and for the powerful effect the project has in promoting the increased involvement of diverse businesses in the construction industry."
The project involved more than 540 firms, including 415 construction companies and 125 professional services firms, with more than 200 firms identified as disadvantaged, minority- and women-owned business enterprise firms and veteran-owned businesses. Forty-six HACIA member companies worked on the project.
As part of the project, new roadway and improvements to 16 interchanges were completed, along with more than 100 bridges. The Tollway says the new I-90 also offers "flexible infrastructure and technology" that allows it to add "smart" features "as needed and to introduce the first SmarRoad this spring incorporating active traffic management, communicating real-time roadway and traffic information to drivers."
The Tollway reports more than 400,000 average daily vehicles are expected to travel on the roadway, providing time savings of up to 30 minutes on an average trip from Rockford to O'Hare Airport, 27 minutes from Elgin to the Kennedy Expressway and $440 million annually in "fuel and productivity costs."
"This massive project dramatically reshaped the I-90 corridor, and we're honored that it again has been recognized by a business group that supports the Hispanic-owned firms and workers who played a vital role in delivering transportation improvements in Northern Illinois," says Illinois Tollway Board Chairman Bob Schillerstrom. "HACIA is a valuable partner in achieving our goals of promoting inclusion and creating more opportunities for diverse workers and businesses to participate in the work we do."