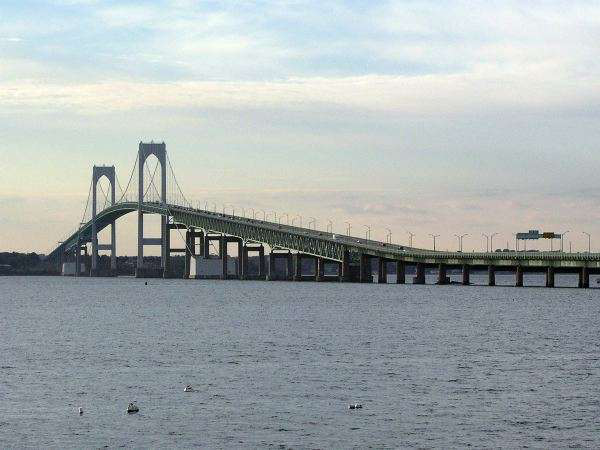 Rhode Island officials report multiple agencies have agreed on "initial plans" that would reconfigure the Newport-Pell Bridge Ramps to relieve congestion on the Newport structure, as well as "provide quicker access" to the town center.
The Rhode Island Department of Transportation's 10-year transportation plan has $40 million set aside for reconstruction, with an expected start date in 2019.
These plans include the complete removal of the viaduct infrastructure and the construction of four roundabouts to move traffic from the bridge into downtown and reconnect city streets. Officials say this would open up 34 acres for development and "provide a roadway network for future development."
"The best way to improve our business climate is to create better infrastructure," says Gov. Gina Raimondo. "Rhode Island is already on the move – companies like Johnson & Johnson, Cambridge Innovation Center and Wexford are moving to the I-195 land in Providence. By reconfiguring the Pell ramps, Newport can also free up land for economic development. I'm excited about the opportunity to bring more jobs and innovation to Rhode Island."
RIDOT reports this project has been needed for "some time," with ramps originally designed in the 1960s for relocating Route 138 – a project that never happened.
"Through our RhodeWorks program, we are able to finally address the outdated bridges and traffic patterns at the Pell Bridge ramps," RIDOT Director Peter Alviti Jr. says. "This project will not only achieve the goal of fixing bridges and improving safety, but also will utilize a design that frees up land for economic development in Newport."
RIDOT reports the bridge and ramps see more than 40,000 vehicles per day during "peak summer season" and during Newport special events, with delays spreading out to between one-quarter mile and one mile.
Project area, which is in the Newport Resilience Innovation District, extends to 50 acres. The plans also include a Park and Ride, rail shuttle and bike path.
"The bridge realignment is the linchpin in moving the City's vision forward which will benefit the residents of Newport and the State of Rhode Island," says Newport City Manager Joseph Nicholson. "We are excited about the future."