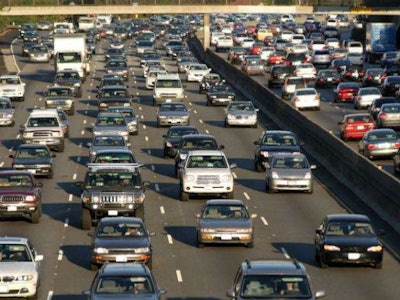 The American Association of State Highway and Transportation Officials (AASHTO) has set its 2017 legislative action agenda, which aims to prod the Trump administration and Congress to create a "sustainable and long-term funding stream for transportation investment" as one of its goals.
"AASHTO has been engaging in a robust dialogue with both the new presidential administration and the 115th Congress," says Joung Lee, AASHTO policy director. "What we are seeing is a high demand by policymakers for technical assistance on important policy issues—including funding and financing, program structure and project delivery, among many others—to aid in the design of a potentially very significant infrastructure package."
The priorities of the association's agenda include:
Implement Sustainable, Long-Term Funding for Transportation Investment: AASHTO informs and supports increased federal transportation investment based on its evaluation of 38 possible transportation revenue mechanisms and lessons learned from a multitude of state-level revenue e orts since 2012.
Strengthen the State-Administered, Federally- Assisted National Transportation Program: With more exibility, States have the capacity to as- sume more federal authorities to speed up project delivery and to invest in every area of our country. AASHTO is a proven partner in mobilizing all states to implement major transportation infrastructure initiatives both in the short- and long-term.
Ensure Economic Productivity and Competitiveness Through a Seamless Nationwide Freight Network: States and their private-sector partners need both the funding and policy tools to meet their freight investment needs, anticipate new trade patterns, and accommodate growth in freight volumes.
Deliver Balanced, Multimodal Mobility Solutions: AASHTO supports a robust, national multimodal transportation network that serves both urban
and rural areas in passenger and freight movement by de ning exible approaches to transportation facility design.
Streamline Regulations, Including on Permitting and Approvals: AASHTO recognizes opportunities to improve the federal regulatory process by reduc- ing complexity and burden for project sponsors. For example, under the Center for Environmen- tal Excellence, AASHTO has partnered with the U.S. Department of Transportation since 2001 to advance streamlined project delivery and environ- mental stewardship.
Honor Authorized Funding Levels in Appropriations: The FAST Act provided annual increases
in surface transportation funding through 2020. Transportation appropriations should fully honor highway, highway safety, transit, and passenger rail programs at authorized amounts.
Further Enhance Decision-Making Based on Performance: AASHTO supports implementing statutorily authorized performance management frameworks for highway safety, bridge and pave- ment, system performance, and freight in partner- ship with the U.S. Department of Transportation.
Ensure Accountability for the Lifecycle: AASHTO promotes sound and innovative asset management practices through an interactive portal to connect experts and practitioners from around the nation.
Reauthorize Federal Aviation Administration Programs: AASHTO supports a multiyear FAA bill that provides more exibility to fund multimodal projects and maintains the non-primary airport grant program, Essential Air Service Program, and Small Community Air Service Development Pro- gram.
Foster and Implement Cutting-Edge Innovation: In addition to hosting the National Operations Center of Excellence, AASHTO advances peer-to- peer innovation by seeking out proven advance- ments in transportation technology, then investing resources necessary to accelerate their adoption by agencies nationwide.
Leverage Revenue Streams and Harnessing Private Capital: In cooperation with the U.S. Depart- ment of Transportation, AASHTO established the BATIC Institute: An AASHTO Center for Excel- lence in 2014, which enhances taxpayer value from transportation investment by promoting public sector capacity building in the analysis, under- standing, and use of project nance techniques including greater application of private capital.
Ensure Infrastructure Resiliency and Sustainability: AASHTO's Resilient and Sustainable Trans- portation Systems Program assists state DOTs to better understand the potential e ects of extreme weather by identifying a range of strategies and options for adaption and mitigation.
Utilize Tax Credits to Incentivize Infrastructure Investment: AASHTO provided indispensable expertise to Congress that helped to develop the ex- tremely successful Build America Bonds program in 2009, which included both direct-pay and tax credit features to supplement the tax-exempt bond market.