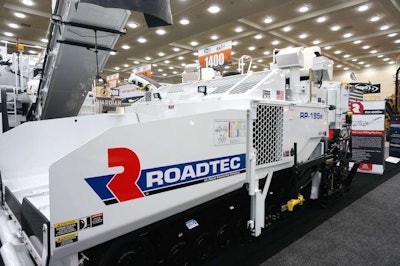 Roadtec reports sales grew 10 percent in 2016 and has set a goal for a 20 percent increase in 2017, citing expectations from the Fast Act signed in 2015 that provides for the Highway Trust Fund for six years.
The company did not provide specific sales figures.
"Jobs were created, optimism returned, new roads began the design cycle, and our customers started buying new equipment again," says Roadtec President John J. Irvine III. "Roadtec experienced a 10% growth in sales for the year, right from the beginning of the year."
The company reports it hired and trained more than 100 new factory employees and signed nine new equipment dealers to represent its products in 15 states.
"We feel the market in 2016 had a real wait and see attitude up until the election," Irvine says. "With the current administration's plans for a $1 trillion infrastructure program over 10 years, we are very optimistic about our industry."
He adds that based on 2015 and previous years, the company was not expecting 2016 to be a "big year" for the company.
"Ending 2015, we were carrying too much inventory," Irvine explains. "We liquidated most of our finished goods inventory by year's end and, of course, a bill was passed in December. We had a small amount of component inventory coming in first quarter 2016. We rallied and turned it up, hiring people, training, pulling component purchases up in our schedule and finished with our best year ever."
Roadtec has set a sales increase goal of 20 percent for 2017, a figure Irvine says will be reached due to the increase in dealer support.
"We have shifted our model from selling and servicing direct to the customers because they were telling us, 'we love your company, we love your equipment, but we need local parts and service support,'" he says. "Our sales had plateaued and to grow we needed that local presence, thus our decision to add qualified, quality dealers who can service and sell our products to the level we provide."
"With the addition of dealers to our business model, we have not cut one head at Roadtec," Irvine says. "We plan to keep all the good people our customers have leaned on in the past to help them be successful. These people will also be training dealer personnel so we can multiply ourselves to service and better support our customers in the field wherever they are located."
He says the company looks to turn its inventory four to five times in 2017 "with more seasonal forecasting of parts."
"Our parent, Astec Industries, is making an investment in Roadtec's shop so we can turn completed machines quicker and supply parts in a timelier manner," Irvine concludes.