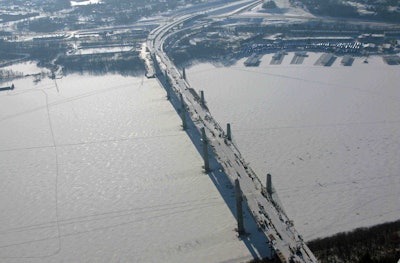 The Minnesota Department of Transportation (MnDOT) says the St. Croix Crossing bridge, a structure that connects Oak Park Heights, Minnesota and St. Joseph, Wisconsin, could open to traffic in August this year, as construction crews have made "significant headway" on the project so far this winter.
The sixth and final closure pour on the project, Pier 9, was completed Feb. 9. A closure pour fills the 2-foot gap left between each pier after all segments (29 in total) are set in place. The closure pour work first began in December last year.
"With this final closure pour we now have a complete bridge deck structure from the Minnesota abutment to the Wisconsin abutment," says project manager Michael Beer.
Other current work includes drainage pipe installation and bridge deck grinding.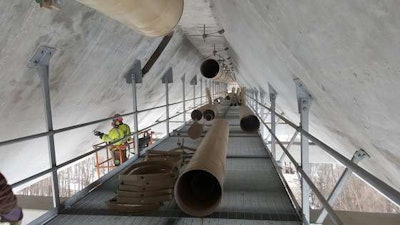 After the project opens the Lift Bridge will be converted to a pedestrian bridge, MnDOT reports.
More details on the project are available here.