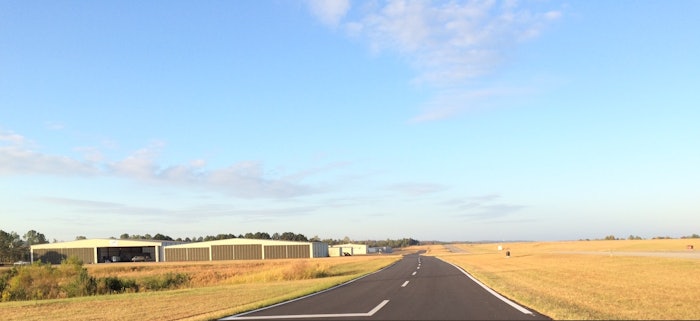 The National Asphalt Pavement Association (NAPA) has named Wiregrass Construction Company of Pelham, Alabama, as the winner of the 2016 Ray Brown Airport Pavement Award during the association's recent annual meeting in Orlando.
The company was recognized for its mill and overlay work on the Bessemer (Alabama) Airport Taxiway Rehabilitation and Terminal April Rehabilitation Phase II project. Work began in the spring of 2016.
"It was very deteriorated," says Mike Collins, airport manager with the Bessemer Airport Authority. "The surface was coming up, and it had surface cracks all throughout it. It was the original pavement; about 20–25 years old."
A major challenge Wiregrass faced was working around the airport's schedule of plane traffic during the project "The runway was not part of this project's rehabilitation, and it remained operational during the duration of the project," says Jay Bryant, office manager for the company.
To combat the potential for scattered debris during milling, Wiregrass worked only when planes weren't landing. As a result, the company had to give the airport authority a notice of 24 hours for when milling was planned.
"We did it at some off times, when the airport was scheduled not to have the planes come in," Bryant says. "But it was all during the daylight hours."
"Wiregrass Construction worked with the Bessemer Airport Authority to complete the work in sections, so only certain taxiways would be closed at any given time," Collins says. "We never had any area closed for more than one day. So we had moved those aircraft to a different area, a ramp or another hangar so they could leave the next day and not be blocked in."
Wiregrass milled 1 1/2 inches, which they replaced with 19 mm of the Federal Aviation Administration's required P-401 surface course. The company used 2,530 tons of asphalt on the project.
Other work included repairing joints and cracks and adding crack sealant in the taxiway and surrounding areas, as well removing and repouring large drainage concrete flumes.
"The efforts of the milling crews were significant to make sure debris wasn't flying, or something didn't get out on the runway while it was closed and then found when the runway reopened 24 hours later," Bryan says. "The cleanliness of the job was probably one of the most significant aspects of the project."