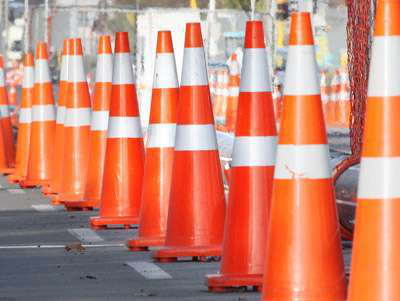 The Michigan Department of Transportation (MDOT) plans to spend more than $11 million on four road projects in Grand Traverse and Leelanau counties, the Record-Eagle reports.
A public meeting was held Tuesday at the MDOT Traverse City Transportation Service Center so the public could learn more about the projects and ask questions of department employees.
The first project, budgeted at $1.5 million, is set to begin Feb. 27 and  will see each of the twin spans of the Murchie Bridge, which was built over the Boardman River in 1951, get new bearings, deck repairs and fresh paint on the structural steel. Plus, Traverse City will provide $70,000 to replace bridge railings. One span will be closed at a time, with the north being closed first.
The project should be completed by June 9.
The second project is budgeted at $6.5 million and expected to begin May 15 and wrap up by Aug. 4. It will resurface 12.7-miles on M-22. Construction crews will close a 1-2 mile stretch of one lane and flaggers will alternate traffic through the work zone.
Two other projects are set to begin on Sept. 5. One is a $2 million project to resurface 2.1-miles on U.S. -31 and upgrade crosswalk ramps to ADA standards. One lane of traffic will remain open to traffic in both directions. The project is expected to be finished by Nov. 10.
The other is a $1.7 million project to replace concrete joints on an 8,8-mile section of M-22 in Suttons Bay. Crews will keep one lane open, with flaggers controlling traffic. Work is expected to be completed by Nov. 3.