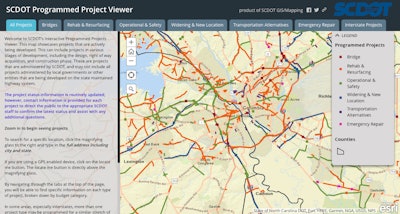 The South Carolina Department of Transportation (SCDOT) has launched a "Project Viewer" section of its website that provides an interactive road map of the state providing the progress of highway and bridge projects.
The agency says this is a move to make the agency more transparent and accountable with real-time updates as projects move forward.
"This capability allows anyone who is interested in SCDOT road and bridge projects to easily be able to find important project information on this one interactive map," says Secretary of Transportation Christy Hall. "This initiative is another example of the agency increasing its transparency and providing useful and timely information."
Projects are listed by types, such as resurfacing, widening or bridge replacements, and can be viewed within specific areas of the state.
SCDOT says users can see a short summary of the exact location of the project, a schedule for the expected beginning and completion, as well as the estimated cost. The name and contact information for the project manager also is displayed.
The Project Viewer is available here.