The American Road & Transportation Builders Association (ARTBA) has presented its S.S. Steinberg Award to Dr. Joseph L. Schofer, associate dean and professor of civil and environmental engineering at Northwestern University's McCormick School of Engineering.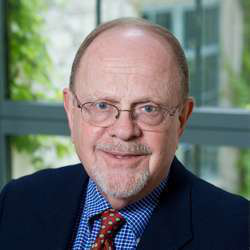 Schofer received the award during ARTBA's recent Research & Education Division (RED) meeting in Washington, D.C. The honor, named after the founding president of RED, recognizes "an individual who has made remarkable contributions to transportation education."
ARTBA reports Schofer "has taught for five decades, preparing transportation graduates at the bachelor's, master's and doctorate levels. His students have built careers in transportation planning and operations at some of the largest transit and transportation agencies in the country. Many others have entered academia to teach the next generation of transportation professionals."
Schofer's also conducts public lectures, alumni tours in multiple countries and hosts a podcast covering infrastructure design, operations and policies. He has been involved in the Transportation Research Board (TRB) for more than 40 years, covering transportation data programs, planning, policy analysis and decision making, ARTBA says.
He has received multiple awards from TRB and has received the Institute of Transportation Engineers' Wilber S. Smith Distinguished Educator Award.