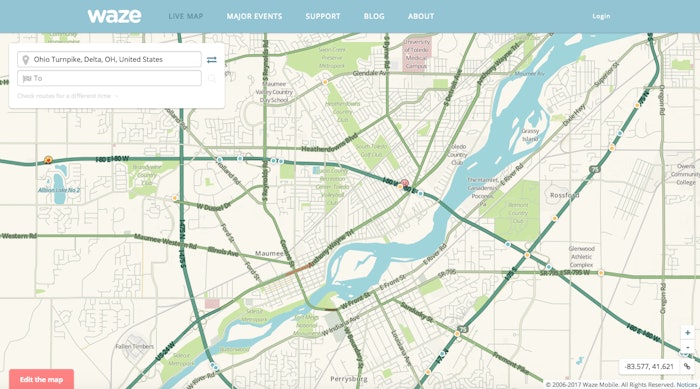 The Ohio Turnpike has partnered with crowdsourced traffic and navigation app Waze on the Connected Citizens Program.
"Information supplied in real time by our customers will add to the eyes and ears of Turnpike staff already out on the road and at our facilities," says Ohio Turnpike Executive Director Randy Cole. "Waze users will greatly enhance our ability to provide up to the minute and accurate traffic data to travelers."
Waze will provide the Ohio Turnpike with real-time user-generated data, such as incident reports, construction, weather data and road reports directly from drivers across the 241 miles the turnpike serves.
"With 53 million customer trips on the Ohio Turnpike, we're excited to welcome the Ohio Turnpike and its customers to the Waze community," says Waze New Business Manager Adam Fried. "No one knows more about what is happening on the roads than Wazers and the Ohio Turnpike can now harness the power of these insights to improve the customer travel experience. For Wazers, the Ohio Turnpike will provide critical road closure and construction information, helping citizens drive more safely and save time on their trips."
More details about the Waze Connected Citizens program are available at https://www.waze.com/ccp. The Waze app is free and available for iOS and Android platforms at http://www.waze.com.