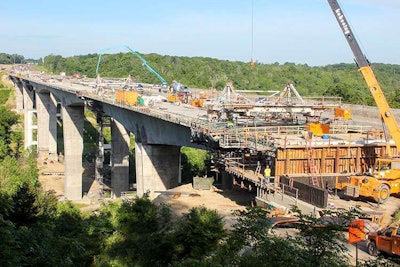 After six years of construction, traffic is once again moving on the Jeremiah Morrow Bridge, a section of Interstate 71 that spans the Little Miami River connecting Cleveland, Columbus, and Cincinnati in Ohio. Limaohio.com reports that state transportation officials expect the project to be completed within the $104 million budget.
"The completion of this project will have an enormous benefit to Ohio," Ohio Department Of Transportation (ODOT) District 8 Deputy Director Tammy Campbell said during a ribbon-cutting in November, according to the news agency. "Pulling this project together was an enormous undertaking, and its efficient completion is a tribute to our project team."
Construction to replace the bridge, Ohio's highest bridge at 239 feet above the river, began in June 2010 and has employed 50 to 80 workers. The construction contractor, Kokosing Construction, will receive $88 million for the construction, while Omnipro Services received $10 million for site services and HNTB received $6 million for the design.
The project has prepared the bridge for the widening of the interstate. "That's probably the most significant aspect of the bridge," Warren County Engineer Neil Tunison told the news agency.
"The new structures will help to keep people safe and commerce moving in Ohio," said ODOT Director Jerry Wray, according to the news agency. "They will serve the people for several decades."
Contractors are continuing to put finishing touches on the project, which are expected to be complete in May 2017. Once complete, the rest area just north of the bridge will reopen.
As of Jan. 11, concrete and steel sections of the old bridge were being cut away and removed.