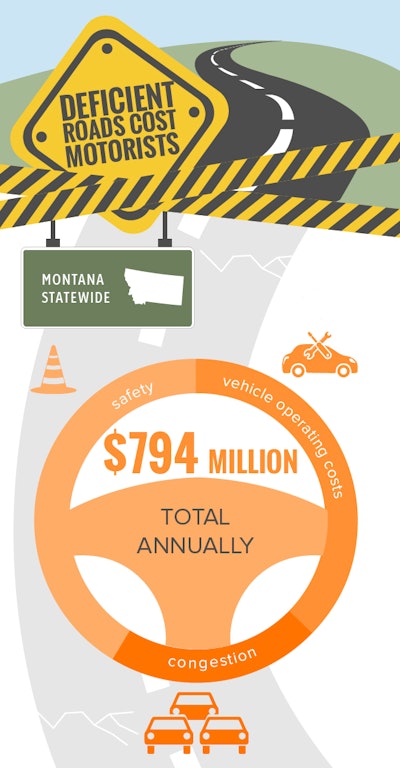 Deteriorated conditions, congestion and minimal safety features on roads and bridges are costing Montana motorists $794 million per year ($1,417 per driver) associated with increased vehicle operating costs (VOC), traffic crashes and delays according to a report from The Road Improvement Program (TRIP).
TRIP periodically releases state reports such as this one, available at tripnet.org, and emphasizes the need for increased funding for transportation infrastructure projects.
In the report, TRIP says 34 percent of major locally and state-maintained urban roads and highways are in poor condition, 40 percent are in mediocre or fair condition and 26 percent are in good condition. Fifty-seven percent of the states major local and state-maintained rural roads and highways are in good condition, 36 percent are mediocre or fair and 7 percent are in poor condition.
TRIP finds 8 percent of Montana's bridges are structurally deficient and 10 percent are functionally obsolete. The Missoula area, with 209 total bridges, has the highest percentage rates structurally deficient (7 percent) and functionally obsolete (20 percent).
The organization calculates the total VOC costs for Montana at $296 million, safety at $328 million and congestion at $170 million.
"We've been talking about our failing infrastructure and lack of funding for a long time now and have very little to show for all that hand-wringing," said Darryl James, executive director of the Montana Infrastructure Coalition. "It's time for a little less talk and a lot more action."
"The Montana Infrastructure Coalition is bringing a balanced package of bills supported by a broad spectrum of Montanans," said Webb Brown, president and CEO of the Montana Chamber of Commerce. "We expect some tough discussions but believe Montana's lawmakers are ready to step to the plate and work on real solutions to these very real problems. We're anxious to share our research and data to play a central role in that discussion."