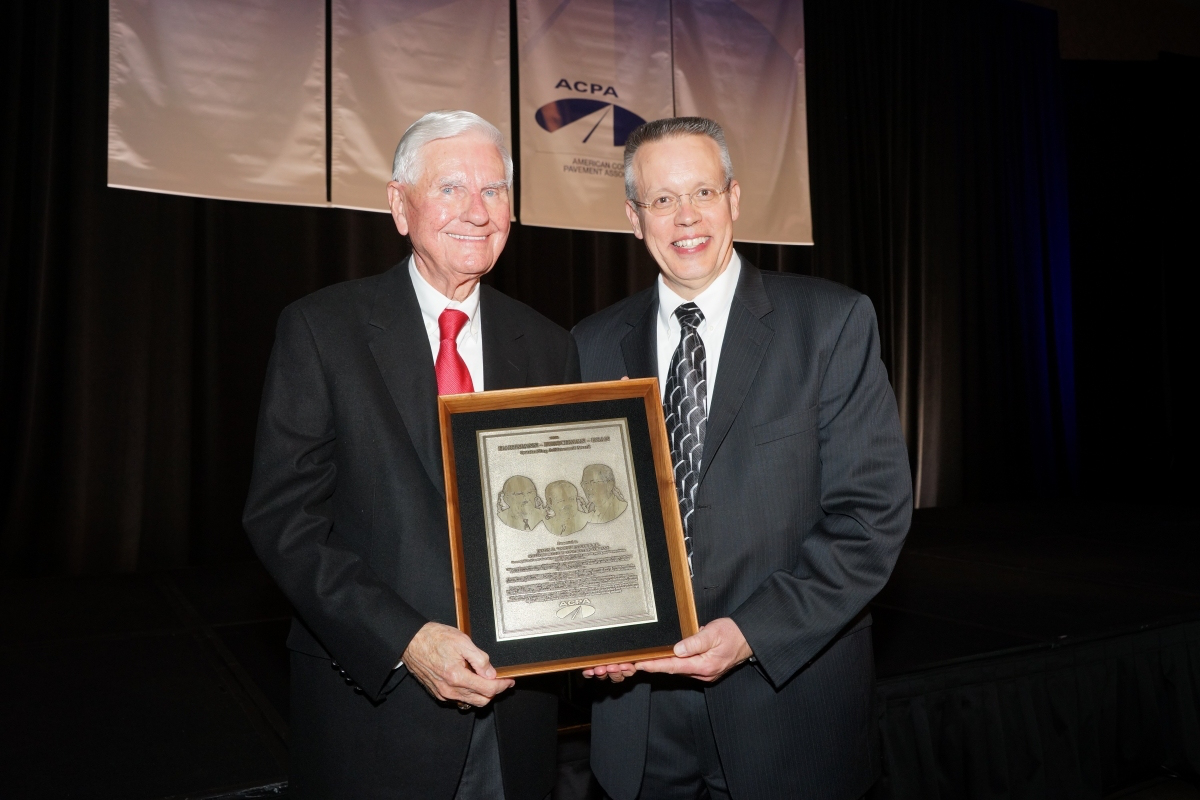 The American Concrete Pavement Association (ACPA) has presented its 2016 Hartmann-Hirschman-Egan Award to James D. Pitcock Jr., owner, chairman and CEO of Williams Brothers Construction Company.
ACPA presents the award annually to individuals or organizations for "unparalleled, long-term commitment, dedication, participation, and leadership in the concrete pavement community."
"It is a privilege that our association enjoys when it highlights the most affective and influential people in our industry. Mr. Pitcock will forever be on the list of Hartmann-Hirschman-Egan recipients, which started in 1968 with the first award going to Jimmie Johnson, inventor of the slipform paving machine. We are extremely pleased to shine a light on Mr. Pitcock's achievements within the concrete paving community" stated Gerald F. Voigt, ACPA president & CEO.
ACPA says it recognized Pitcock for his leadership in the transportation-construction industry, as well as leading one of the largest concrete paving contractors in the country.
Along with Claude and John Williams, Pitcock founded Williams Brothers Construction Company in 1955, and since that time has served in multiple volunteer leadership positions, including national president of The Associated General Contractors of America, and president of the Texas Highway Branch of the Associated General Contractors for two terms.
Pitcock served in 1976 as a representative to the National Transportation Policy Study Commission. He has also served on the Texas State Board of Registration for Professional Engineers; as chairman of the Houston Chamber of Commerce transportation committee and the Texas Deep Water Port Authority; was inducted into the Texas Good Roads/Transportation Association's Hall of Fame; named the 2006 Engineer of the Year by the Texas State Legislature; named to the Texas Transportation Institute's Hall of Honor; and named as one of the "America's Top Construction Professionals of the 20th Century."
From the ACPA:
"First presented in 1968, the Hartmann-Hirschman-Egan Award was originally named in honor of Harold W. Hartmann, who served as the Association's Secretary-Treasurer from 1964 until 1974. In 1987, Robert E. Hirschman's name was added in recognition of his term as the Association's Chairman (then President) in 1967, as well as his tenure as Secretary-Treasurer from 1975 to 1987. In 2007, the name of Edward A. Egan was added in recognition of his steadfast leadership and dedication to the Association and the industry it serves. Among the stations he occupied was the ACPA's chairman in 1986, as well as Secretary-Treasurer – from 1988 to 2007, making him the longest-serving person in that capacity in the Association's history.