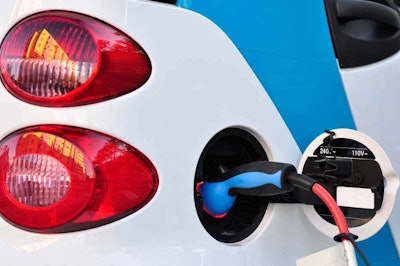 The U.S. Department of Transportation's National Highway Traffic Safety Administration (NHTSA) is requiring all new hybrid and electric light-duty vehicles to emit some type of sound, a requirement meant to provide a means of alerting pedestrians of the presence, direction and location of these vehicles.
The agency says the aim of the requirement is to help prevent roughly 2,400 pedestrian injuries each year when all hybrids are "properly equipped" with such a system.
The rule requires such vehicles with four wheels and a gross vehicle weight rating of 10,000 pounds or less to make "audible noise" when traveling up to 30 kilometers per hour (19 miles per hour) in reverse or forward. The agency says there is enough noise at higher speeds, including tire and wind noise, to alert pedestrians.
"This is a common-sense tool to help pedestrians—especially folks who are blind or have low vision—make their way safely," says NHTSA administrator Mark Rosekind. "With pedestrian fatalities on the rise, it is vitally important we take every action to protect the most vulnerable road users."
NHTSA is mandating all qualifying vehicles be equipment with the sound measures by Sept. 1, 2019. Manufacturers must have half of the new vehicles in compliance one year before the final deadline.