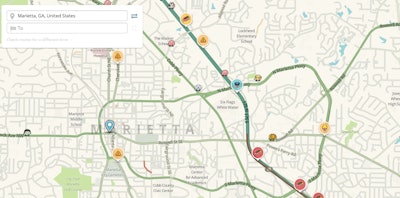 Cobb County, a part of the metropolitan Atlanta area, has partnered with crowdsourced traffic and navigation app Waze on the Connected Citizens Program. The county's transportation department follows the Georgia Department of Transportation's recent agreement with the company to share traffic and construction data.
"Joining the Connected Citizens Program was a logical step to take to ensure that we are providing our citizens with the best available tools to make decisions about their daily travel on our roads," says Jim Wilgus, director for the Cobb County Department of Transportation. "Our work is about helping people get around as safely and efficiently as possible. That means construction, certainly, but it also means making the most of technology. We are excited about how working with Waze will help us meet that goal."
"Through the Waze Connected Citizens Program, Cobb County will contribute critical data to the Waze app which is key for hyperlocal citizen support," says Adam Fried, new business development manager at Waze. "No one knows more about what is happening on the roads than Wazers, and Cobb County will be able to use these anonymous insights to further promote safer roads. In exchange, Cobb County is providing critical road closure and incident data to Waze, helping Wazers better circumvent major traffic events and real-time traffic blocks."
More details about the Waze Connected Citizens program are available at https://www.waze.com/ccp. The Waze app is free and available for iOS and Android platforms at http://www.waze.com.