The Connecticut Department of Transportation's (ConnDOT) Pearl Harbor Memorial Bridge is the grand-prize winner of the 2016 America's Transportation Awards, while the Florida Department of Transportation's (FDOT) Eller Drive Intermodal Container Transfer Facility Overpass won the program's People's Choice Award.
Each winner received a $10,000 cash prize that can be used to help support a transportation-related scholarship or charity of their choosing.
The American Association of State Highway Transportation Officials (AASHTO), the AAA motor club and the U.S. Chamber of Commerce sponsor the program, which honors the best transportation projects in the categories of Quality of Life/Community Development, Best Use of Innovation and Under Budget. Projects are grouped by small (costing less than $25 million), medium (between $26 million and $199 million) and large (more than $200 million. The program is in its ninth year and 12 finalists were selected from 84 entries.
"This year's Grand Prize winner, the new Pearl Harbor Memorial Bridge – is another perfect example of what this competition is about," says Bud Wright, AASHTO executive director. "This spectacular new addition to New Haven's skyline is one of the largest projects in the Connecticut DOT's history. And it was delivered ahead of schedule and on budget, improving safety, relieving congestion and enhancing travel options for tens of thousands of daily commuters."
The Pearl Harbor Memorial Bridge cost $554 million and stretches 4,200 feet across the Quinnipiac River and sees 140,000 vehicles per day that serves major interstates in the area as wall as the intermodal Gateway Terminal.
"America's Transportation Awards continues to showcase how state and local transportation agencies are using innovative approaches to tackle a broad range of transportation projects," says Jill Ingrassia, managing director of government relations and traffic safety advocacy at AAA. "Whether it's repairing or replacing existing infrastructure, or implementing HOV lanes, this is important work that will help to reduce congestion, improve safety, and increase efficiency."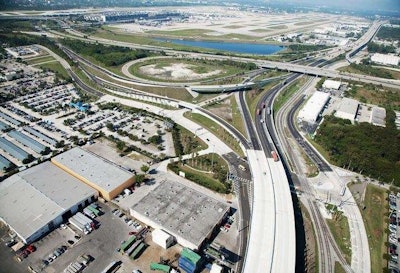 FDOT's Eller Drive Intermodal Container Transfer Facility Overpass won the People's Choice Award with 65,000 of the 220,000 online votes cast. The project, which cost $42.5 million, involved upgraded intersections, a new bridge and railroad crossing signals and has helped improved safety and traffic flow to the Port Everglades cruise and container terminals.
"It is important to recognize the innovative and resourceful transportation infrastructure projects being done across the country," says Ed Mortimer, executive director of transportation infrastructure at the U.S. Chamber of Commerce. "Our organization is a co-sponsor of this annual competition because it demonstrates how these award winning transportation projects are the foundation for America's economy."