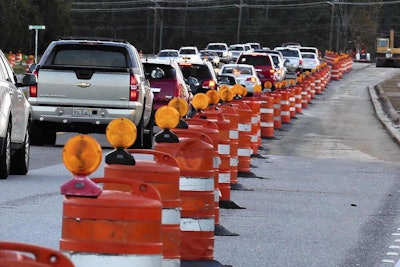 State and local governments across the country featured transportation measures on their ballots November 8, with 69 percent of 280 funding measures approved across the country, according to the American Road & Transportation Builders Association (ARTBA).
The association reports 22 states approved ballot measures accounting for $201 billion in funding for state and local projects, with California approving 15 of 26 measures valued at $133 million. That state's funding approvals include a 1-cent sales tax in Los Angeles that provides $120 billion for 40 years to projects for local roads, bridges and transit programs.
ARTBA reports both Illinois and New Jersey approved measures to keep transportation user fee funding from being used for non-transportation initiatives. Maine voters approved a $100 million bond issue for transportation projects, and Rhode Island gave the nod to $70 million for ports.
Georgia approved local sales tax bumps that could bring in about $4 billion for metro Atlanta road and transit projects.
"Earlier this year, voters approved 76 of 81 transportation funding measures—or 93 percent—of initiatives on primary ballots," the association says. "Overall, voters approved 74 percent of transportation ballot initiatives in 2016. This is in line with the 10-year average rate of 74 percent. In the last two presidential elections, voters approved 77 percent (2012) and 76 percent (2008) of transportation funding measures."
A complete report of ARTBA's legislative findings, including an interactive map, is available here.
The American Association of State Highway and Transportation Officials has aggregated links to details on the results of more than 30 of state and local measures. That list is available here.