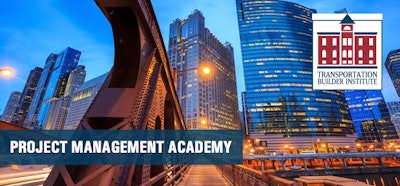 The American Road & Transportation Builders Association (ARTBA) will host two Project Management Academies in December for transportation construction leaders, with one located in Chicago and the other in Charlotte.
"Both programs are built around interactive settings," the association says. "Participants will learn from industry experts in key disciplines that are tailored to the needs of transportation contractors."
Topics include construction documentation, disadvantaged business enterprise compliance and ethics, client relations, economics of safety and management and leadership in the workplace.
The Charlotte program is scheduled for December 6-7 at the headquarters of the Carolinas Associated General Contractors. Chicago is set for December 13-15 at the Illinois Road and Transportation Builders Association headquarters, and will also include a scheduling session.
ARTBA says the programs cost between $1,299 and $1,499 per person, but a discount is available for two or more people attending per company. The programs can provide up to 15 Professional Development Hours.
More details are available at www.artbatdf.org in the "Transportation Builder Institute" section on the site.