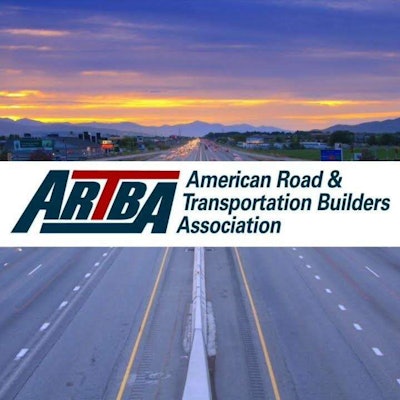 The four winners of this year's Student Transportation Video Contest sponsored by the American Road & Transportation Builders Association (ARTBA) Research and Education Division touched on separate issues impacting transportation infrastructure, covering transit, funding, autonomous vehicles and work zone safety.
ARTBA announced the winners during its recent National Convention in Tucson.
The contest is held as a means of raising "awareness about infrastructure issues by challenging students to develop a brief video exploring various topics relating to America's transportation network. For the sixth year of the contest, the association received 30 entries in the general transportation category and the new safety category.
ARTBA says it advertised the contest on college scholarship websites, posted on online video contest sites, and shared with Council of University Transportation Centers members and high schools focused on Science, Technology, Engineering and Math, in addition to the association's social media accounts.
The winning videos include:
General Transportation Category
Age Group One (Elementary, Middle or High School Students)
Josh Jaffe, Seattle Academy, Seattle, Washington
Jaffe is a junior at Seattle Academy. His video discusses the need to further develop the city's public transit system to accommodate a growing population, making suggestions to expand and repair current infrastructure to access more communities.

Age Group Two (Post-Secondary/College/Graduate Level)
Timothy Gersten, New York University, New York City
Gersten, a film and television major at NYU, describes in his video how infrastructure is financed through the federal gas tax. He mentions how lagging funding leaves roadways and bridges significantly deficient, and suggests further investment to renew, promote sustainability and develop infrastructure plans.

Safety Category
Age Group One (Elementary, Middle or High School Students)
Christopher Pomeroy, Hopkinton High School, Hopkinton, Massachusetts
Pomeroy's video discusses the need to incorporate more autonomous vehicles on the road to improve safety for all drivers and reduce road accidents. He is a junior at Hopkinton High.

Age Group Two (Post-Secondary/College/Graduate Level)
Abdi Musse, Carnegie Mellon University, Pittsburgh, Pennsylvania
Musse is a graduate student at Carnegie Mellon's Human-Computer Interaction Institute. His video focuses on the need to improve work zone safety conditions to prevent accidents and deaths. It promotes avoiding distracted driving by limiting phone usage and obeying work zone signage.