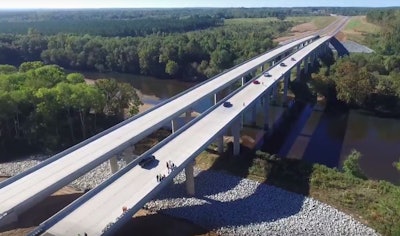 The Georgia Department of Transportation (GDOT) has opened a $78 million section of the Fall Line Freeway (FLF) Project in Baldwin and Wilkinson counties to traffic. This section of the four-lane roadway connects U.S. 441 and Georgia 24.
The project included eight bridges, with one double bridge spanning 1,500 feet across the Oconee River. The entire FLF corridor extends 215 miles across the width of Georgia from the Alabama line in Columbus, through Macon and ultimately ending in August at the South Carolina line.
The FLF is part of the Governor's Road Improvement Program (GRIP) corridor, which was created in 1989 as a means of boosting economic development in more rural areas. GRIP's purpose to connect 95 percent of all Georgia cities with a population of more than 2,500 to interstate highways to bring 98 percent of Georgia residents within 20 miles of a four-lane highway. The state has 19 GRIP corridors stretching close to 3,300 miles.
One section of the FLF remains to be completed, from Georgia 24 at Crawford Road, where the newly opened section ends, to Georgia 68 at the Sandersville Bypass in Washington County. This section is scheduled for completion in late 2017.
Balfour Beatty Infrastructure began the project in spring 2013 and some minor work will be completed this week.
This video shows a portion of the newly opened FLF section.