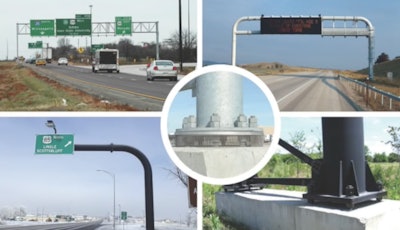 The American Association of State Highway Transportation Officials (AASHTO) has released a free downloadable publication of its 2017 interim revisions to the 2015 Load and Resistance Factor Design (LRFD) Specifications for Structural Supports for Highway Signs, Luminaires and Traffic Signals.
The updates include articles on loads, steel design, serviceability requirements, fatigue design, breakaway supports and design aids.
"As with the original volume, the interim revisions utilize the LRFD methodology for the design of supports for highway signs, lighting structures and traffic signals," the association says. "It is necessary to have these interim revisions to have all current specification information."
The full interim revisions are available to download here. AASHTO recommends the replacement pages, once printed, be inserted into the print version of the first edition publication from 2015. The video below describes that first version.