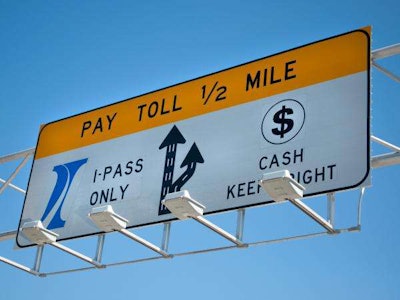 The Illinois Tollway board of directors has approved $5.5 million in construction and professional engineering contracts this month, with one determined by Earned Credit Program (ECP) credits.
The tollway's ECP, launched in 2007, is a way contractors and subcontractors can earn bid credits for future bids when they hire from "a pool of qualified, pre-screened job candidates," which may include "underemployed African Americans, Latinos, Asian Americans, women, eligible offenders and exonerated individuals, veterans and other Workforce Innovation and Opportunity Act (WIOA)-eligible individuals as determined by federal household income guidelines."
September's awarded contracts include:
A $3.8 million construction contract to John Burns Construction Company, Orland Park, IL, for fiber optic relocation services throughout the Illinois Tollway system.
A $1.7 million professional engineering services contract to a joint venture with Gewalt Hamilton Associates Inc. and Atlas Engineering Group, Northbrook, Illinois, for construction management services for a new westbound entrance ramp at the Roselle Road Interchange on the Jane Addams Memorial Tollway (Interstate 90).
"This is a real-life example of how ECP credits can help a firm win a contract, which goes hand in hand with our commitment to diversify and expand the pool of companies and individuals working on Tollway construction projects," says Executive Director Greg Bedalov. "The upside is that we're putting people to work in Illinois and helping them launch new careers with good-paying jobs."
Companies working with the tollway have hire more than 240 ECP workers since the program's inception. Demographically, these workers are 69 percent African American, 13 percent Latino and 13 percent veteran. Twenty-eight percent of the workers are women and 72 percent are men.
Bid credits over the course of the program have been valued at roughly $1.3 million, helping companies win 22 construction contracts.
So far in 2016, the tollway board has approved close to $251.2 million in construction and professional engineering service contracts.