While the Oregon Department of Transportation (ODOT) expects a 5.6-percent increase in fuel tax revenue for 2016, it is projecting a slowdown in this growth through 2019, with a decline in collections starting 2020.
In its report, "The Future of Transportation Funding: The Forecasted Decline of Motor Fuels Tax and Potential Alternatives," ODOT says the project decline will be due to increased fuel efficiency and slowing employment growth.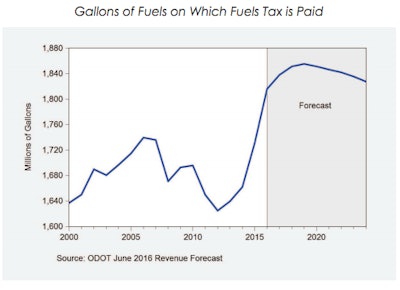 "The combine impact of these two—as well as other contributing factors such as increase fuel prices—will bring overall fuel consumption down in later forecast years, and increase fuel efficiency will continue to reduce fuels tax revenue every year into the future," the agency says in the report.
In many ways the report is a rallying cry for the state's burgeoning OReGO road usage charge (RUC) program that began July 2015. ODOT says the program shows that it is possible to charge a per-mile fee, credit state fuel taxes back to drivers and "manage information and public funds according to sate and federal laws," stating it is the first state to successfully run such a program.
By using OReGO, the agency reports it would generate an additional $340 million in gross revenue over 10 years, which would offset the amount, reported as exactly $340 million, that would be lost in fuel tax collection due to increase fuel efficiency. "This amount would preserve over 500 miles of a two-lane rural road," ODOT says.
"Fuels tax is a sound revenue source, and the cost to administer the program is very small compared to the revenue it generates. RUC, in its infancy, will be more expensive to administer until the program can grow and realize economies of scale," ODOT reports. "A strong transportation funding system would combine the strengths of the two models—fuels tax and RUC—to create a revenue stream that is cost-effective for the present, but adaptable to the future of transportation."