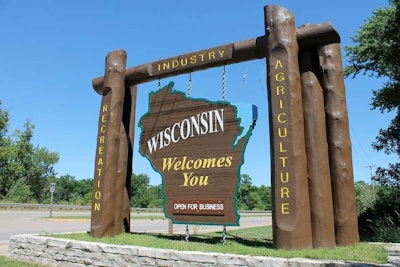 The Wisconsin Department of Transportation Sept. 15 submitted its proposed 2017-2019 transportation budget to Gov. Scott Walker per his mandate from earlier this year. Most notably, the proposal involves no fee or fuel tax increases.
"This budget provides more funding to local governments for their roads and bridges, keeps borrowing at historically low levels, and maintains our no tax or fee increase pledge," Walker says. "Good roads and bridges are important to Wisconsin and our economy, and this budget proves you don't have to raise taxes or fees to maintain a safe and strong transportation network."
A summary of the proposal includes:
• $1.7 billion in funding for the State Highway Rehabilitation program – the largest budget ever approved for this program and slightly above 2015-17 funding levels.
• The largest year-to-year change in local aids since the year 2000: $65 million total in additional funding will be provided over the 2015-17 biennium; 7 percent increase over 2009-11 budget levels.
• General Transportation Aid (GTA) Program: $46 million increase: County GTA increase of 8 percent over 2015-17 budget; Municipal GTA (includes towns, villages, cities) increases 4.7 percent over 2015-17 budget and 5.2 percent over 2009-11 budget; Rate per mile increases 4 percent to $2,290 (currently $2,202)
• Local Roads Improvement Program (LRIP): $14 million increase; 25 percent increase over 2015-17 budget (from $56 million to $70 million) and a 52 percent increase over the 2009-11 budget; Increases state cost share for discretionary projects from 50 percent to 60 percent; entitlement projects remain at 50/50 state/local split
• Local Bridge Improvement Program: $5 million increase (30 percent increase in SEG) or a 7.6 percent increase to the entire program over 2015-17 budget (that is also funded with FED).
• 13 percent increase in maintenance and safety over 2015-17 budget ($69.7 million) or 39 percent increase over the 2009-11 biennium includes: Pavement preservation funds for crack filling, route and seal and chip seal, heading off more expensive treatments; Safety improvements such as pavement marking, sign replacement, lighting, and shoulder dropoff corrections; $33.7 million in additional funds to counties for Routine Maintenance Agreement work on state highways
• A total of $500 million in bonding for department of transportation programs: Lowest level of bonding since the 2001-03 biennium; Maintains manageable long-term debt service level and coverage ratio
• $562 million for the Majors Program to continue work on reconstruction and capacity projects throughout the state. Priority to I-39/90 (Madison – Beloit) and WIS 10/441 (Menasha/Fox Valley).
• $122 million for the South East Megas program that will fund completion of the Zoo Interchange Core and enumerate and provide funding to begin preliminary work on the I-94 EW corridor project.
A copy of the executive summary is available here.