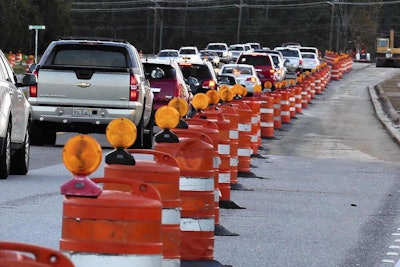 The U.S. Department of Transportation says the first Fostering Advancements in Shipping and Transportation for the Long-term Achievement of National Efficiencies (FASTLANE) Grants, totaling close to $800 million, will leverage roughly $3.6 billion in transportation infrastructure projects when added to other funding sources from local governments and private sources.
The FASTLANE Grants were officially announced last week for 18 projects in 15 state and the District of Columbia, although senators from the various locations receiving the grants made announcements of their local projects in the weeks leading up to the USDOT announcement.
"The FAST Act gave us a set of tools to begin addressing America's infrastructure deficit, and we have been moving full speed ahead to get critical road, rail, and port projects off the ground across the country," says Transportation Secretary Anthony Foxx. "From eliminating traffic bottlenecks and enhancing port capacity to overhauling a major freight corridor, the 18 inaugural FASTLANE grants will enable people and goods to move more efficiently."
Last year's FAST Act established the grant program and is administered by the USDOT's Build America Bureau (BAB), which is designed to streamline credit and grant opportunities for transportation projects, as well as provide technical assistance and encouragement to innovation in completing such projects.
"The Build America Bureau brings together FASTLANE grants, credit programs like TIFIA and RRIF, and technical support into a one-stop-shop designed to get infrastructure projects funded and built," says Andrew Right, BAB acting director.
The list of projects receiving the FASTLANE Grants for fiscal year 2016 include:
Interstate 10 Phoenix to Tucson Improvements
Arizona Department of Transportation
Pinal County, Arizona, Rural
Amount: $54,000,000
SR-11 Segment 2 and Southbound Connectors
California Department of Transportation and San Diego Association of Governments
San Diego County, California, Urban
Proposed Grant Amount: $49,280,000
Arlington Memorial Bridge Reconstruction Project
National Park Service and District of Columbia Department of Transportation
District of Columbia, Urban
Amount: $90,000,000
Port of Savannah International Multi-Modal Connector
Georgia Ports Authority
Savannah, Georgia, Urban
Amount: $44,000,000
I-10 Freight Corridor Rehabilitation and Expansion (CoRE)
Louisiana Department of Transportation and Development
Lafayette, Louisiana, Rural
Amount: $60,000,000
Conley Terminal Intermodal Improvements and Modernization
Massachusetts Port Authority (MASSPORT)
Boston, Massachusetts, Urban
Amount: $42,000,000
I-390/I-490/Route 31 Interchange, Lyell Avenue Corridor Project
New York State Department of Transportation
Town of Gates, New York, Urban
Amount: $32,000,000
U.S. 69/75 Bryan County
Oklahoma Department of Transportation
Calera, Oklahoma, Rural
Amount: $62,000,000
Atlantic Gateway: Partnering to Unlock the I-95 Corridor
Virginia Department of Transportation
Commonwealth of Virginia, Urban
Amount: $165,000,000
South Lander Street Grade Separation and Railroad Safety Project
City of Seattle
Seattle, Washington, Urban
Amount: $45,000,000
I-39/90 Corridor Project
Wisconsin Department of Transportation
Janesville, Wisconsin, Rural
Amount: $40,000,000
Truck Parking Availability Systems
Florida Department of Transportation
State of Florida, Rural (Small Project)
Amount: $10,778,237
Cedar Rapids Logistics Park
Iowa Department of Transportation
Cedar Rapids, Iowa, Rural (Small Project)
Amount: $25,650,000
U.S. 95 North Corridor Access Improvement Project
Idaho Department of Transportation
Kootenai County, Idaho, Rural (Small Project)
Amount: $5,100,000
Maine Intermodal Port Productivity Project
Maine Department of Transportation
Portland, Maine, Rural (Small Project)
Amount: $7,719,173
Cross Harbor Freight Program
Port Authority of New York and New Jersey
Jersey City, New Jersey and New York, New York, Urban (Small Project)
Amount: $10,672,590
Coos Bay Rail Line – Tunnel Rehabilitation Project
Oregon International Port of Coos Bay
Lane, Douglas, and Coos Counties, Oregon, Rural (Small Project)
Amount: $11,000,000
Strander Boulevard Extension and Grade Separation Phase 3
City of Tukwila, Washington
City of Tukwila, Washington, Urban (Small Project)
Amount: $5,000,000