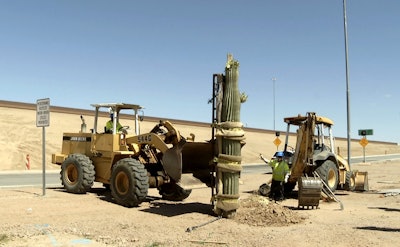 The Arizona Department of Transportation (ADOT) has replanted roughly 400 saguaro cactuses alongside the Loop 101/Pima Freeway as part of the $74 million project to improve portions of the highway and the Loop 202/Red Mountain Freeway.
The saguaros, in addition to other cactuses and trees collected over a two-year period, were stored in nurseries near the highway outside of Scottsdale, ADOT says. Some of the saguaros are estimated to be older than the state itself.
"This restoration work is challenging but also very rewarding because many of the saguaros are more than a hundred years old and it's great to have them in place as an iconic symbol of Arizona," says ADOT Landscape Construction Supervisor Richard Adamson.
ADOT crews also placed about 10,000 new plants along the freeway, including trees, shrubs and additional cactuses.
"We've learned a lot over the years about including plant restoration in our freeway-improvement projects," says Madhu Reddy, district engineer for ADOT's Central Construction District in Phoenix. "Local communities support these efforts and we receive compliments from local residents and Valley visitors who like what they're seeing."