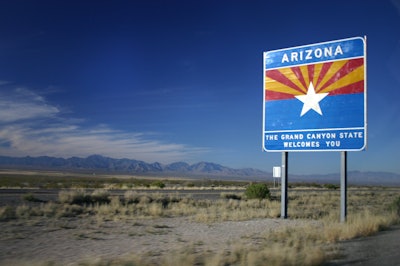 The Arizona Department of Transportation (ADOT) is celebrating 25 years of partnering with contractors, municipalities and other agencies to deliver projects on time and with few conflicts.
"Partnering is another way ADOT shows its commitment to continuous improvement," ADOT director John Halikowski says. "Through partnering, we constantly get and give feedback. This helps us improve on the next project, resulting in construction being on time and on budget, with the least amount of inconvenience for drivers."
ADOT says its partnering has been formalized and begins with workshops with all entities involved in a project that help create a communication structure, goals and a processes for resolving issues.
These entities then hold regular meetings during a project to identify any issues and create action plans work through them, as well as carry on team-building exercises. Stakeholders then hold postmortems to review successes and failures.
The agency reports that prior to beginning its partnering program in 1991, 60 legal actions had to be resolved through mediation, arbitration or litigation costing it $39.8 million. Twenty-five years later, ADOT says it faces "almost no disagreements" regarding projects that require legal actions. This has led to the dismantling of an agency legal team once responsible for such events.
Because of this success, ADOT also presents Arizona Transportation Partnering Excellence Awards to recognize the contractors and other agencies and entities "that have partnering to foster successful relationships," honoring them for "communication, commitment, cooperation and continuous improvement to successfully complete projects."
"When using the ADOT partnering model, quality, safety, productivity, issue resolution and teamwork naturally operate at a very high level because everyone is working together to achieve the most successful outcome for the project," says Jason Fann, co-owner of Fann Contracting Inc., a 2015 winner for its role in a project to improve 4.7 miles of State Route 89 in Chino Valley. "I applaud ADOT for setting the bar high for other projects in Arizona to follow a similar process that makes building projects more enjoyable and with a better overall outcome."
Below are the ADOT 2015 Partnering Excellence Award Winners:
Roadway project under $5 million
Control Road, Houston Mesa Road and Reynolds Creek Bridges
Vastco Incorporated, the Federal Highway Administration, the U.S. Forest Service and Gila County were recognized for providing safe travel on Forest Highway 52, which serves both forest and non-forest users throughout the year.
Roadway project $5 million-$25 million
S. 89 landslide repair, MP 526-527 CMAR
ADOT, FNF Construction, the Navajo Division of Transportation, AECOM, Kleinfelder, Rummel and Terracon were recognized for providing preconstruction and construction services to repair the roadway within the Navajo Nation in Coconino County.
Houghton Road, Irvington to Valencia roadway improvements
Tucson, Hunter Contracting Company and Psomas were recognized for widening the roadway from two lanes to six lanes and adding bike, pedestrian and drainage improvements.
SR 89 Deep Well Ranch Road – South Chino Valley limit
ADOT, Fann Contracting Incorporated, Prescott, Chino Valley, Yavapai County and Stanley Consultants Incorporated were recognized for reconstructing 4.66 miles of two-lane highway into four-lane divided highway with roundabout intersections at both ends.
Other transportation infrastructure over $25 million
Terminal 4 south apron ASR reconstruction
Banicki, CH2M Hill and Phoenix were recognized for this design-bid-build project to replace a significant section of alkali-silica reaction-affected concrete at Phoenix Sky Harbor International Airport.