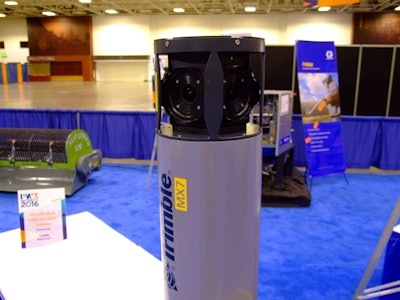 Trimble featured its MX7 mobile imaging system, which departments of transportation and municipalities can used to capture 360-degree images of road and site infrastructure details, during the 2016 American Public Works Association (APWA) Public Works Expo in Minneapolis.
The MX7 includes six 5-megapixel cameras that provide 30-megapixal geo-referenced images that can be taken at up to highway speeds mounted on multiple vehicle types. Its embedded computer is operated by a tablet via WiFi.
The images are calibrated for high-accuracy terrestrial photogrammetry, Trimble says, that allows users to position, measure, annotate and extract infrastructure details such as bridges, buildings, roads and highways, as well as document site conditions.
The MX7 enables users to focus on their observation of assets and then port the imagery later into Trimble Trident and Applanix POSPAC MMS Software. The Trident Imaging Hub software provides object positioning, measurement, data layer creation and analysis.
System specifications
Resolution: 30 megapixels (six, 5-megapixel cameras)
Field of view: 90 percent of full sphere
Spherical distance: calibrated from 2 meters to infinity
Weight: 24.9 pounds