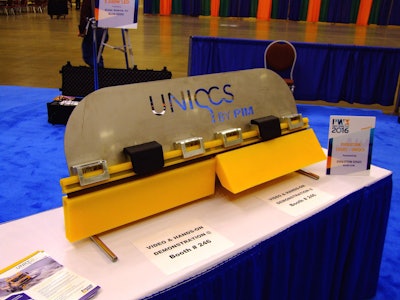 Evolution Edges introduced its universal quick change scraper system, or UNIQCS, at the American Public Works Association (APWA) Public Works Expo in Minneapolis.
The UNIQCS, which the company says fits all plow types, can be installed or replaced without tools and by one person in 20 minutes. The clamp sets are bolted to the moldboard only once when installed, and the polyurethane blade sections are slid off the end when they need to be replaced.
The clip is locked into a clamp to secure the cutting edge, Evolution Edges says, and can be changed from positive to negative blade designs as needed, depending on snow conditions and surface requirements.
The design decreases plow vibration, the company adds, and ultimately reduces driver fatigue.