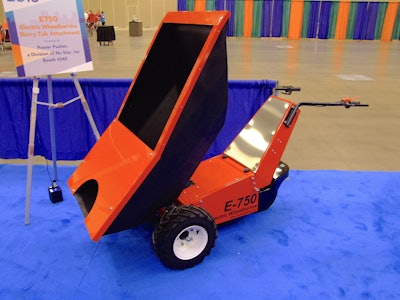 Power Pusher showcased it's new E-750 Electric Wheelbarrow, which can transport loads weighing up to 750 pounds, at the American Public Works Association (APWA) Public Works Expo in Minneapolis.
The product was on display at the company's booth and as part of the New Product Showcase area in the exhibit hall.
The E-750 has a 9-cubic-foot capacity tub, available in stainless steel or high-density plastic, and can carry its load at 3 mph and can run five-miles on one charge.
The tub, which measures 32 inches wide, 38-1/4 inches high and 69 inches long, is dumped with a power feature that is accessed on the wheelbarrow handle.