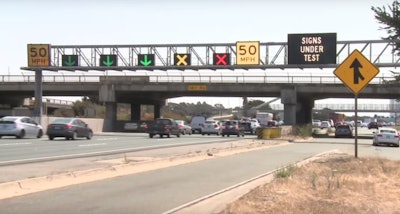 The California Department of Transportation (Caltrans) has activated close to 100 overhead signs on 11 structures that extend across Interstate 80 from the Carquinez Bridge to the San Francisco-Oakland Bay Bridge.
The activation comes after weeks of testing on what the agency calls the I-80 SMART Corridor.
The illuminated signs indicate clear lanes with a green arrow, and problem lanes with either a yellow or red X in Lane Use Signs (LUS) and speed advisories with Variable Advisory Speed Signs (VASS).
The signs only are lit up when there is a "lane-blocking" incident on the highway. Caltrans says when such an incident is determined, the LUS and VASS will light up and are "actively-managed."
The agency says 25 collisions or lane-blocking incidents are reported each week and believe the signs will help guide motorists out of block lanes and create clearer paths for emergency responders.