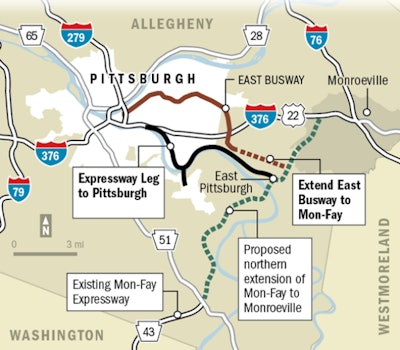 In its latest report, The Road Improvement Program (TRIP) concludes the proposed extensions of the Mon-Fayette Expressway and the Martin Luther King Jr. Busway near Pittsburgh would be a key driver of improved economic development and job growth to the area.
"The completion of the expressway and busway has the potential to transform the economy of the Mon Valley region," says Will Wilkins, TRIP's executive director. "These projects will reduce travel times, add jobs now and in the future, and allow for needed economic growth. Moving forward with (the projects) will be a critical step in completing the economic and social recovery of the Mon Valley Region."
The proposed expressway extension would travel 13 miles from Pennsylvania 51 to Interstate 376 in Monroeville and the busway update would extend 2.8 miles from the Swissvale to the extended expressway in East Pittsburgh.
TRIP says the $1.7 billion expressway project would benefit the region by improving access and mobility in the Mon Valley area to include "industrial brownfield sites" in Duquesne, McKeesport and Keystone Commons in East Pittsburgh, resulting in "increase economic development opportunities" and a completion of the entire Mon Valley Expressway system from I-68 in West Virginia.
The organization reports it believes the project would create 5,525 construction jobs over a four-year period, 12,240 long-term jobs within the corridor and 7,480 long-term jobs outside of the corridor.
The $100 million busway extension, TRIP reports, would improve mobility between East Pittsburgh and Oakland, as well as improve transit access from the proposed expressway project north of Pennsylvania 51. It would also ease traffic congestion on the Parkway East and boost transit access in the same areas potentially impacted by the expressway expansion.
TRIP estimates this project would create 325 construction jobs over a four-year period, 720 long-term jobs within the corridor and 440 long-term jobs outside of the corridor.
"The PA Route 51/I-376 Mon-Fayette Expressway project will address a long-term deficiency in highway access in the Mon Valley that has severely limited its economic recovery," says Joe Kirk, coordinator of the Expressway Completion Campaign. "The TRIP analysis of the Expressway clearly documents the value and benefits of the Mon Fayette Expressway. While recognizing they are separate projects, advancement of the Expressway project would support a study underway by the Port Authority to determine the feasibility of extending the Martin Luther King Jr. Busway from Swissvale to a planned Expressway interchange in East Pittsburgh. The busway extension would provide the added benefit of improved regional mass transit access into Pittsburgh. The first step is to ensure that the Mon Fayette Expressway project advances to construction as soon as possible"
"The Mon Fayette Expressway is crucial for the economic development of the entire Monongahela River corridor," says John Easoz, chairman of the Mon Valley Alliance. "We welcome and support the findings of the TRIP report that demonstrates the need for this project."