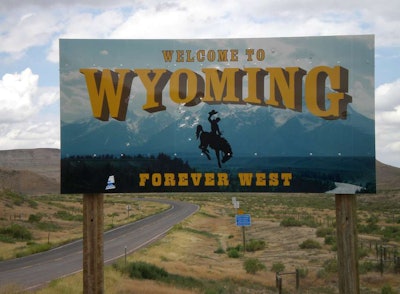 The Wyoming Transportation Commission has awarded 10 contracts valued at $16.5 million in its latest round of highway project approvals.
The largest of these is for adding eight passing lanes to Wyoming 59, valued at $6.3 million and awarded to Concrete Foundations of Douglas, Wyoming. The project is part of the second phase of construction in the portion of the highway and is expected to be completed by October 31, 2017.
The first phase, which involves adding seven passing lanes and is funded by the state's 10-cent increase on fuel taxes, will be completed by October 31, 2016, the Wyoming Department of Transportation reports.
The other contracts awarded include:
$3.2 million (funded by the fuel tax increase) for a full-depth reclamation on about 18 miles of Wyoming 233, awarded to Knife River Corporation of Boise, Idaho. Expected completion: October 31, 2017
$1.8 million (funded by the fuel tax increase) to mill and overlay about 10 miles in various sections of U.S. 191 south of Pinedale, awarded to H-K Contractors of Idaho Falls, Idaho. Expected completion: October 31, 2017
$1.8 million (funded by the fuel tax increase) to mill and overlay about 12 miles of Wyoming 430 between Rock Springs and Hiawatha in Sweetwater County, awarded to Lewis & Lewis of Rock Springs, Wyoming. Expected completion: October 31, 2017
$1.7 million (funded by the fuel tax increase) for mill and overlay work on 6 miles of U.S. 189 between Lazeart Junction near Interstate 80 and Kemmerer in Uinta and Lincoln counties, awarded to Lewis & Lewis. Expected completion: October 31, 2017
$1.3 million (90 percent federally funded, 10 percent county funded) for replacement of the Hoback River Bridge on County Road 33 in Teton County, awarded to Cannon Builders of Blackfoot, Idaho. Expected completion: October 31, 2017
$120,095 to S & L Industrial of Cowley, Wyoming, for 11 move over signs in Lincoln and Uinta counties that will be placed at various locations on I-80, Wyoming 150, U.S. 189 and U.S. 26. Expected completion: October 31, 2017
$99,051 to Casper Electric of Casper, Wyoming, for a new traffic signal at the intersection of Wyoming 22 and Wyoming 390 between Jackson and Wilson in Teton County. Expected completion: December 15, 2016
$93,413 to S & L Industrial for nine move over signs that will be installed at various locations on I-80, I-25, U.S. 30, Wyoming 214, Wyoming 215, Wyoming 213 and Wyoming 210 in Albany, Carbon and Laramie counties. Expected completion: October 31, 2017
$90,372 to S & L Industrial for nine move over signs that will be installed at various locations on I-25, I-80 and near Casper in Carbon, Converse, Goshen, Natrona, Niobrara and Platte counties. Expected completion: October 31, 2017