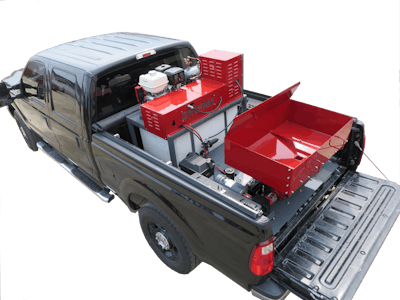 Richway's new Cretefoamer CS-6G fits in a 3/4-ton truck and is designed for continuous cellular concrete jobs of up to 40 yards per day, with a production range of 30-100 pounds per cubic foot (pcf).
Cellular concrete is a concrete slurry or grout mixture with foam added that's used in fill applications. It has been used on projects such as fill areas on bridge approaches. Richway says it can be used for sewer pipe and culvert abandonment filling and utility trench filling.
The CS-6G is powered by a Honda gas engine running a 150-amp alternator and has all electric drives. It features a 65-gallon water tank, making it capable of producing 30 pcf of cellular concrete without refilling. The unit can also be operated as a standalone grout pump with a capacity of 2 cubic yards per hour.
Richway lists the price of the Cretefoarmer CS-6G at $20,000.