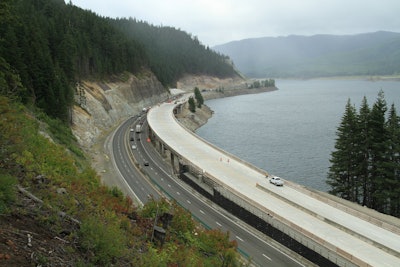 The Washington Department of Transportation (WSDOT) recently completed the eastbound section of a new avalanche bridge on Interstate 90 in Snoqualmie Pass and opened it to eastbound traffic.
The avalanche bridge is part of a major WSDOT project to widen a 15-mile section of I-90 between Hyak and Easton to six lanes and raise the roadway in areas where rock slides and avalanches often cause delays or closures.
Westbound traffic has now been shifted to the eastbound section as well to allow the construction of the westbound section of the bridge, which is expected to be completed in 2018.
Crews are now removing the old westbound lanes of I-90 and building avalanche chutes that will redirect snow and rock under the bridge, reducing the number of avalanche-related closures on the interstate.