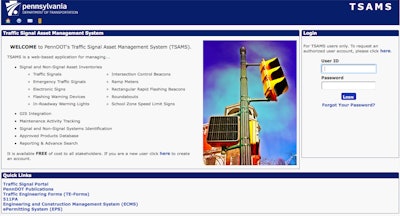 The Pennsylvania Department of Transportation (PennDOT) has launched a web application database housing details on roughly 8,700 state route and local road traffic signals to help oversee operations by its staff as well as municipalities and planning partners.
The Traffic Signal Asset Management System (TSAMS) is available at this link.
"Our traffic operations team has worked incredibly long and hard with our district staff and local partners to assemble the best available traffic signal data for this database," says PennDOT Sec. Leslie S. Richards. "This free tool puts this information in one easily accessible spot and will make a huge difference as we and our partners make ongoing improvements to signals and traffic flow."
Before this database, PennDOT says traffic signal data was kept as paper records in multiple locations, "making it difficult to know the basis on which improvements could be developed and delivered." In addition to details on signal equipment, locations and connections, TSAMS provides a GIS mapping interface and can accept updated data over time. The database can also be populated with data on school zone speed limit signs, electronic signs and flashing warning devices.
In addition to agencies, contractors and consultants working with these entities can access the system using existing PennDOT Engineering and Construction Management System account information.
"We offer this web application at no cost to municipalities or planning partners," Richards says. "This important new tool will help us identify traffic signal needs and better plan for future improvements. Properly maintained and operated signals make a huge difference in traffic flow and this is one way we can effectively address congestion short of adding expensive new capacity."
PennDOT's Green Light-Go municipality partnership program, enacted by Pennsylvania Act 89, provided the support to create the TSAMS.