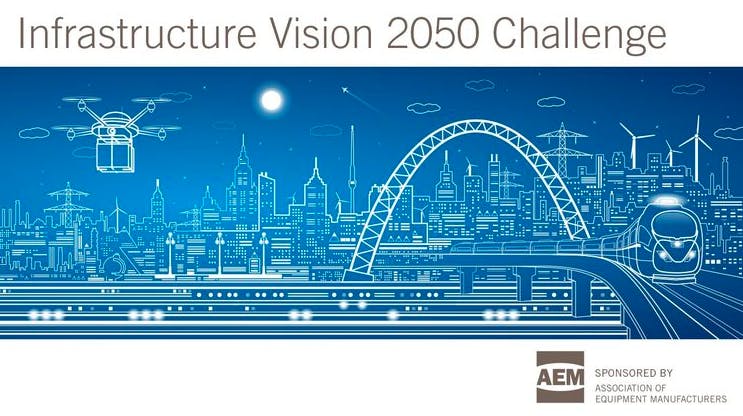 The Association of Equipment Manufactures (AEM) has announced five winners in the "Dream Phase" of the Infrastructure 2050 Challenge program that aims to bring forth "groundbreaking ideas and solutions" to address U.S. infrastructure challenges.
The program was launched in January and offers $150,000 in prizes. The "Dream Phase" ($45,000 awarded) is the second of three phases, preceded by the "Complain Phase" ($5,000 awarded) and will be followed by the "Build Phase" ($100,000 to be awarded).
AEM says it received 30 submissions for the "Dream Phase" coming from the U.S., Canada, Indonesia, the Philippines, Romania, the United Kingdom and Ukraine.
"We are excited about the level of interest and diversity in submissions in the second phase of AEM's Infrastructure Vision 2050 Challenge," says AEM President Dennis Slater. "So far, in just six months alone, we have explored a number of ways to reinvent and prepare for the next generation of U.S. infrastructure. The winning innovators were those who dared to think big and generate ideas that move us away from the pothole discussion and towards bold and innovative solutions."
The five winners include:
AEM says the final phase of the program can be followed here, and all phase winners will be featured at the Tech Experience at CONEXPO-CON/AGG 2017 in Las Vegas, Nevada.