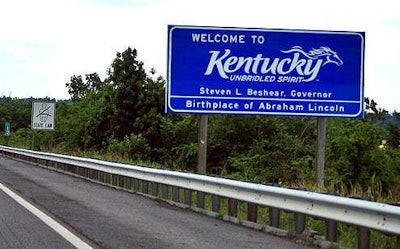 Kentucky Transportation Cabinet (KYTC) Sec. Greg Thomas recently announced the agency's Pause-50 plan, an effort to rebuild the agency's Road Fund cash balance by delaying new state-funded transportation projects at all stages.
"For the first time in recent history, the Cabinet faces a low Road Fund cash balance, which compromises our ability to authorize new state road projects over the next biennium," Thomas said in testimony before the state's Interim Joint Committee on Transportation.
"The 'Pause-50' approach is designed to slow or delay the starts of new projects so that we can pay current expenditures, recoup lost revenue and rebuild our funding base."
KYTC operates under a cash management plan aimed at maintaining a minimum balance of $100 million, but the current balance is near zero. This hasn't happened since 2004 when the balance drop to $30 million.
Pause-50 stops all phases of new state-funded projects, including design, right of way/utilities and construction for the first year of a two-year period. Next year, the plan calls for allocating $50 million to allocate to project starts.
Thomas said transportation project spending has exceeded revenues by roughly $498 million for the fiscal years 2014-2016 period, and expects Road Fund revenue for the fiscal year 2015-2016 period to be $152 million less than fiscal year 2014. A contributing factor is the recent drop in the state gas tax to 6.5 cents per gallon.
"The bottom line is that our current level of spending is unsustainable, and quite frankly, unacceptable," Thomas said. "There are several reasons and causes for concern. However, we feel that we have the situation under control."
The agency will continue work on projects not financed by state construction funds, including:
Ongoing commitments to mega projects including Interstate 69 improvements, the Mountain Parkway expansion project, U.S. 68/KY 80 roadway improvements and the Louisville bridges project
KYTC will proceed on new federally-funded projects including the widening of I-75 in Rockcastle County, new I-65 interchange in Bullitt County, and upgrading the William H. Natcher Parkway to interstate standards in order to establish  the "I-165" Spur Route between Bowling Green and Owensboro.
The resurfacing program will also continue to operate.