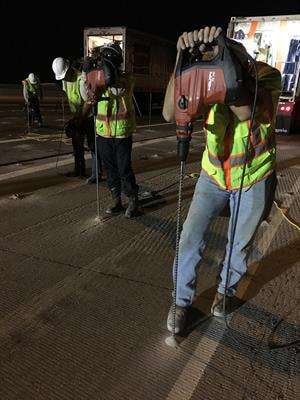 The Arizona Department of Transportation (ADOT) is using foam injections to lift settling sections of the Loop 101/Pima Freeway near Phoenix and to stabilize the soil underneath. Doing this allowed the agency to repair a "minor" dip in the road without closing off traffic for demolition and replacement.
"This is certainly less disruptive than digging up the freeway to do reconstruction work," says Steve Boschen, director of ADOT's Infrastructure Delivery and Operations Division. "It is a high-tech fix when it comes to long-term ground settlement beneath a freeway. Expansion foam isn't the answer in all cases, but we've had some great success in offsetting the effects of ground settlement."
The work, conducted on the northbound lanes near McDonald Drive, is part of ADOT's widening project for Loop 101 between Shea Boulevard and Loop 202. It's the one of the last steps before agency crews apply a layer of rubberized asphalt in the area.
The overall project is scheduled to be complete by this fall. azdot.gov/Loop101
The foam has been used before in similar situations, in particular when concrete slabs on either end of freeway bridges needed to be raised.
"It's already made a noticeable difference with the dip that drivers may have noticed as they traveled northbound on Loop 101 near the Arizona Canal crossing north of McDonald Drive," says Dan Haskins, ADOT's resident engineer on the Loop 101 widening project. "We're able to work during overnight hours with lane closures. The contractor drills very small holes in the freeway pavement. Crews are then able to run narrow hoses to a depth underground where open space in the soil can be filled with the expansion foam. In this case we're going as far as 30 feet beneath the freeway."