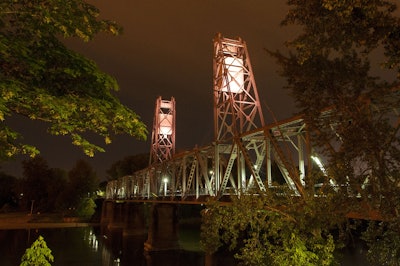 The Oregon Department of Transportation (ODOT) has been illuminating in orange the Morrison Bridge in Portland and Union Street Railroad Bridge in Salem as a way to raise awareness for road construction safety in work zones.
The orange lighting will continue until May 14.
"Work zone safety is a top priority for ODOT, our industry partners and law enforcement," the agency says. "We engineer, construct and enforce work zones to lower the risk to travelers and workers."
ODOT says on average a work zone crash occurs every 19 hours in the state, with a yearly average of 477 work zone crashes during 2010-2014. During that same period there were 13 serious injuries and seven fatal crashes.
There were three fatal occupation injuries in Oregon work zones in 2014, according to the Bureau of Labor Statistics' Census of Fatal Occupational Injuries.