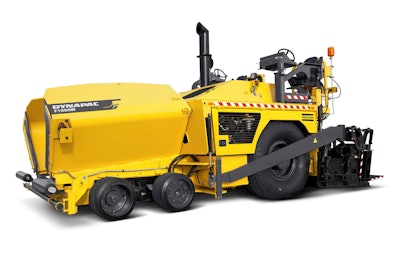 Atlas Copco has updated is Dynapac F1000 series pavers launching the F1000W wheeled model and F1000T tracked model, with a center auger drive system option and a hydraulic tunnel extension system. The wheeled model was on display at the 2016 World of Asphalt in Nashville.
The center auger drive offers a 6-inch-wide chain box and 17-inch diameter flights, enabling uniform material flow and reducing centerline segregation. The company says the system is best for high-speed paving work and work involving pavement width changes periodically, including highways, city streets and large parking lots.
The new hydraulic tunnel extension is 22 inches wide and automatically retracts as screed extensions retract to avoid collision. Atlas Copco says it reduces excess head of material in the tunnel and keeps asphalt from escaping into track components.
Additional features on the F1000 series include:
Dual operating stations that swing out to the side of the machine
Gas-spring hinged doors for access to the hydraulic systems and engine components
Carlson front- or rear-mounted screeds; the Carlson EZ R-2 screed can extend to 28 feet wide