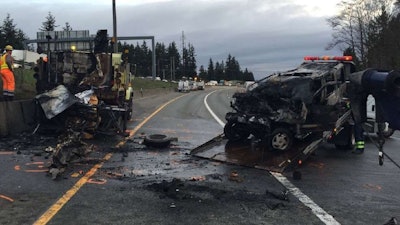 A man died in Washington Monday morning after he drove at high speed into the back of a parked Washington Department of Transportation truck.
KIRO in Seattle reported that the driver of a Ford Explorer was driving down Interstate 5 in Everett, Wash., and somehow ended up driving on the shoulder before slamming into the back of the WSDOT traffic control truck with a large flashing traffic arrow. The SUV then rolled over into the northbound lanes before it caught fire. The 25-year-old driver of the WSDOT truck only suffered a minor leg injury and got out of the truck and attempted to put out the fire with an extinguisher. But the driver of the SUV couldn't be saved.
Police said it didn't appear that the driver of the SUV even tried to stop before hitting the WSDOT truck.
"It's hard to explain or understand why somebody would be on the left shoulder, driving fast and not noticing a big truck with warning signs on a lit street. It's difficult to understand, but unfortunately, it happens relatively frequently," Washington State Police Sgt. Chris Caiolia said.
Firefighters were able to extinguish the fire and found the body of the driver inside, according to KOMO News. There didn't appear to be any other passengers.
The identity of the driver of the SUV has not been released by police.