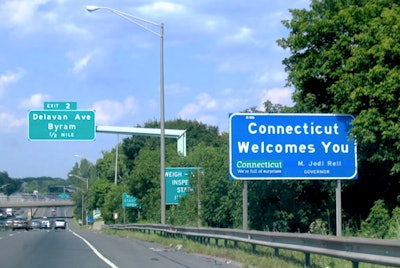 The Connecticut Department of Transportation (ConnDOT) resurfaced 330 two-lane miles of roadway in the 2015 construction season, an 8.6 percent increase compared to last year and a 30.4 percent jump compared to 2015. It is the fourth year of consecutive increases.
Officials attribute the improvement to the additional $5.7 million provided to ConnDOT for road resurfacing this year, at $74.6 million compared to $68.9 million in 2014.
"We have stepped up the pace of road resurfacing in Connecticut in recent years, and we are committed to continuous improvement as we work toward a best-in-class highway system for commuters, truckers, and tourists alike," Gov. Dannel Malloy says. "We are committed to maintaining and upgrading our infrastructure so that we can continue driving growth, economic development, and job creation while improving overall quality of life for our residents."
ConnDOT maintains more than 4,100 miles of roads and highways in the state and averages 225 to 250 miles of resurfacing each year.
"We work hard to keep Connecticut roads and highways in a state of good repair and I'm pleased that we could add the additional miles this year well in time for the winter snow and ice season," ConnDOT Commissioner James P. Redeker says. "Jobs and economic growth depend on a safe and reliable transportation network — and that requires consistent, sustained investment."
ConnDOT two-lane resurfacing and expenditures since 2005
2015: 330 miles, $74.6 million
2014: 304 miles, $68.9 million
2013: 242 miles, $57 million
2012: 223 miles, $57 million
2011: 271 miles, $50 million
2010: 241 miles, $50 million
2009: 216 miles, $49 million
2008: 265 miles, $54 million
2007: 165 miles, $48 million
2006: 191 miles, $42 million
2005: 253 miles, $49 million