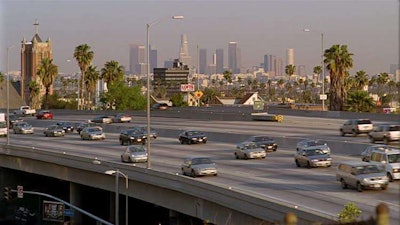 Sure, they say a picture is worth a thousand words, but Los Angeles is hoping art could be worth even more lives.
L.A. Mayor Eric Garcetti announced last week the city would begin accepting applicants for its first ever Creative Catalyst Artist in Residence—a program for artists to work together with city departments on "innovative ways to connect Angelenos with Mayor Garcetti's vision for a safer, more sustainable, and dynamic Los Angeles."
And the L.A. Department of Transportation is the first up to get its own resident artists. The goal would be for the artist to help create campaigns to get residents of the city involved with the Vision Zero plan to eliminate all traffic fatalities in 10 years.
"Art has the power to transform our perceptions, attitudes, and behaviors," said Mayor Eric Garcetti. "We have an important message to deliver: traffic deaths and injuries are not inevitable, and we can save lives through better planning, design, and enforcement. The Creative Catalyst Artist in Residence Program will help engage and educate Angelenos by pairing the creative genius that thrives in Los Angeles with critical initiatives to improve quality of life in Los Angeles."
After being selected, the chosen artist will take part in meetings with transportation planners and engineers working on Vision Zero. They'll be embedded in the department for 24 months.
"Art has the ability to startle people out of their everyday to remind them that they are traveling through the heart of a neighborhood and to spark their imagination no matter how they move through our city,"L.A. DOT General Manager Seleta Reynolds said. "Vision Zero is a bold goal: zero traffic fatalities by 2025, which will require conventional tools like engineering and enforcement, as well as unconventional tools like art and storytelling. We plan to infuse art into the design and function of the public realm to create safe, beautiful, great streets."
The artist, who will get $20,000 in commission, will be contracted for two years after being selected through a community-driven process. The guidelines for the artist can be found at the Department of Cultural Affairs website. The deadline to apply will be November 9.