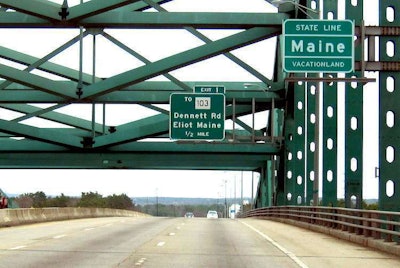 The Road Improvement Program's (TRIP) latest report from 2014 data shows 33 percent of Maine's locally- and state-maintained bridges are structurally deficient or functionally obsolete.
TRIP also said Maine has labeled 11 percent of these bridges as poor, a rating that is similar to the federal rating of structurally deficient.
The report indicates 18 percent (432) of these bridges are functionally obsolete and 15 percent (364) are structurally deficient. Twenty-eight percent of Maine's state-maintained bridges are at least 70 years old.
Funding for the state's bridges is $70 million per year, TRIP said, which is about half of what officials say is needed to maintain them in their current condition. To maintain bridges and meet safety, service and condition goals, Maine would need a bridge budget of $210 million. The replacement cost of state-maintained bridges would be $7.56 billion.
"Maine's transportation system is the cornerstone of the state's economy," said Dana Connors, president of the Maine State Chamber of Commerce. "Every business in Maine depends on it, as do our citizens. It is critical that we increase the level of investment in our bridges, first and foremost for the safety of the traveling public, but also for the many businesses across Maine that depend on our system to ship their products to market. The TRIP report tells us what Maine Department of Transportation engineers have also told us: we need to invest more in our bridges in order to ensure safety and ensure that Maine is competitive."
"Maine's bridge conditions are only going to get worse if greater funding is not made available," said Will Wilkins, TRIP's executive director. "Additional, consistent funding must be provided to improve the condition of Maine's bridges, which are a vital part of the state's transportation network and critical to economic growth and quality of life."
TRIP's full report on Maine's bridges is available here.